May 9, 2013
Vikings drop NCAA opener to Fontbonne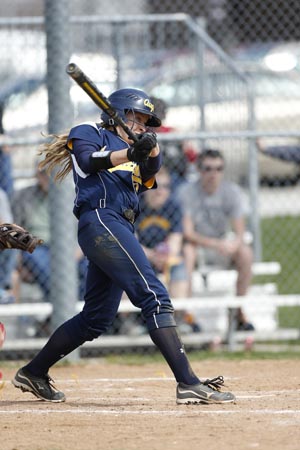 Sophomore left fielder Laura Behnke went 3-for-3 with a double, a walk and two runs scored Thursday, but Augustana dropped a 5-2 decision to Fontbonne in the Vikings' NCAA tournament opener in Pella, Iowa.
PELLA, Iowa- Fontbonne got just one ball out of the infield in a fateful sixth inning Thursday, but it was a big one - a grand slam off the bat of Danni Glixman that gave the Griffins a 5-2 win over Augustana at the NCAA regional at Central College. The 25th-ranked Vikings drop to 29-13 and face Cornell at noon on Friday. 23rd-ranked Fontbonne, 34-10, advances in the winners' bracket.

Augustana, the regional's sixth seed, led 2-1 going to the bottom of the sixth. Junior Sarah Hintz (Le Roy HS, Le Roy, Ill.) had given up just an infield single through five innings and started the sixth having fanned five straight Griffin batters. However, she walked Caitlin Nappier to start the frame. Nappier then beat Jamie Rehmert's (Sterling HS, Sterling, Ill.) throw to second on Sarah Cerutti's sacrifice bunt. After striking out Marissa Simon looking for the first out, Hintz missed with a 3-2 pitch to Cassie Glixman, loading the bases for her twin sister, Danni. Her blast over the center field fence put Fontbonne up 5-2.
The Vikings had built their lead on the strength of Laura Behnke (St. Francis HS, Roselle, Ill.) runs in the first and fifth innings.
Behnke led off the game with a single up the middle and scored on Rehmert's two-out single to left. The Griffins, the third seed at Pella, scored an unearned run in the second without getting the ball out of the infield.
In the fifth, Behnke and Chelsea Lavin (Downers Grove South HS, Downers Grove, Ill.) had back-to-back one-out singles and moved to second and third on a Fontbonne error. Krista Watson (Coal City HS, Coal City, Ill.) singled through the left side, scoring Behnke with the go-ahead run. Rehmert attempted to bunt Lavin in, but Griffin catcher Emily Smith made a nice play for the unassisted putout at the plate, keeping the Viking lead at 2-1.
Hintz fell to 13-7 with the though-luck loss. She allowed four hits, just one of which left the infield. The walks in the sixth were her only two of the game and she fanned nine. Fontbonne's Rachel McCarthy scattered seven hits and improved to 14-5 with the win.
Behnke was 3-for-3 with a double and a walk and scored both Viking runs.
Augustana faces Cornell in an elimination game on Friday, May 10 at noon.