May 8, 2013
Handrahan goal gives Vikings first-ever NCAA win in women's lacrosse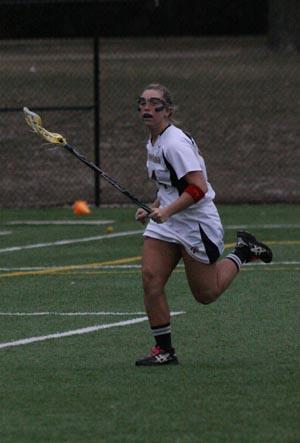 Freshman Emily Handrahan's goal with just seven seconds left on the clock proved to be the game-winner as Augustana defeated Redlands 11-10 in first round NCAA Division III Tournament action on Wednesday, May 8 in Redlands, California.
REDLANDS, Calif. - Better late than never for the Augustana women's lacrosse team as the Vikings scored four unanswered goals in the final 6:01 to defeat Redlands 11-10 in first round NCAA Division III Tournament action on Thursday, May 8 in Redlands, California. It was freshman Emily Handrahan (Lake Zurich HS, Hawthorn Woods, Ill.) who hit the back of the net with just :07 showing on the clock for the game winner.

Second year head coach Sara Tisdale's team led in this game only one time and it was for just those precious seven ticks of the clock at the end as the Vikings secured a victory in their first ever NCAA appearance. And, it came against a Redlands team that clobbered Augustana 18-6 in the first game of the season back on February 21.

The Vikings got down 3-0 with the game just over five minutes old as Redlands sandwiched a pair of goals by Aimee Dewan around a single tally from KK McCaslin. Augustana finally broke the ice when sophomore Hilary Kargl (Sacred Heart Academy, Louisville, Kent.) scored off an assist from freshman Rebecca Pollard (Westfield HS, Carmel, Ind.) at the 19:48 mark of the first half.

It took over 10 minutes before either team scored again and this time it was McCaslin with her second goal of the game to make it 4-1 at 9:12. Handrahan answered off a free position shot at 5:46 to trim the margin to 4-2 but the Bulldogs got a goal from Jacky Craycraft just :27 in front of intermission to make it 5-2 at halftime.

Redlands used goals by McCaslin (29:37) and Craycraft (29:18) to bump the lead to 7-2 less than a minute into the second half. Like the first half, the two teams then went into defensive mode and it took nearly 12 minutes before the scoreboard lights went on again. This time it was Pollard who scored off a Handrahan assist at 17:36 to make it 7-3. At the 15:39 mark that same combination worked again for the Vikings to make it 7-4.

The Bulldogs scored two quick goals, both by Allie Hoffler, at 13:46 and 13:08, and assisted both times by Craycraft.

With the score 9-4 and the season hanging in the balance, sophomore Allie Roehrenbeck (Columbus Academy, Gahanna, Ohio) tallied on a free position attempt at 11:42 to make it 9-5. Roehrenbeck's goal seemed to ignite Augustana and the complexion of the game changed at this point.

Freshman Kaylee Nolan (Carl Sandburg HS, Orland Park, Ill.) used an assist from Roehrenbeck at 9:52 to make it 9-6 and at 8:35 Pollard took a feed from Kargl and slid it past Redlands' goalkeeper Ana Martinez to trim the margin to 9-7.

Redlands answered quickly, however, when Hoffler scored unassisted at 8:19 to make it 10-7.

The Vikings' leading scorer on the season, sophomore Christina Letmanski (Glenbard West HS, Wheaton, Ill.) scored with Kargl getting an assist at 6:01 to cut the lead to 10-8. Pollard scored off a Letmanski assist at 5:06 to make it a one-goal game 10-9. Letmanski tied things at 10-10 with 1:41 left when she scored unassisted.

With less than 30 left Redlands had a successful clear attempt and was operating in the Vikings' end when the Bulldogs turned the ball over and Roehrenbeck scooped up the ground ball and got it to Handrahan who hit the game-winner.

Augustana goal-keeper Sarah Osier (Naperville Central HS, Naperville, Ill.) picked up five saves in the game and was credited with the victory.

After the two teams each had 11 shots in the first half, the Vikings stepped it up on the offensive end in the second period to out-shoot the home team 16-9 and finish with a 27-20 advantage. Augustana, which leads the nation in caused turnovers, forced Redlands to cough up the ball 24 times.

Pollard scored four goals to pace the Vikings while Letmanski and Handrahan had two each. Defenders Emily Pavlik (Lyons Township HS, LaGrange, Ill.) and Anna Kyllo (St. Croix Lutheran HS, Bloomington, Minn.) each had three ground balls.

Augustana is now 17-3 on the season and will face number one ranked Trinity (Connecticut) on Saturday, May 11 while Redlands bows out at 15-5.