May 7, 2013
Letmanski 1st team, Maduro & Nolan 2nd team All-Region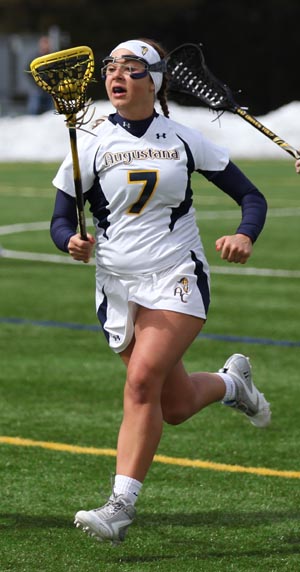 Sophomore attacker Christina Letmanski has been named first team All-Great Lakes Region by the Intercollegiate Women's Lacrosse Coaches Association.
ROCK ISLAND, Ill.- Three members of Augustana's NCAA tournament-bound lacrosse team have been named Great Lakes All-Region by the Intercollegiate Women's Lacrosse Coaches Association. Sophomore attacker Christina Letmanski (Glenbard West HS, Wheaton, Ill.) was a first team selection and freshman midfielders Kendall Maduro (Neuqua Valley HS, Naperville, Ill.) and Kaylee Nolan (Sandburg HS, Orland Park, Ill.) were second team picks.
Letmanksi leads the Vikings in goals (49), assists (31) and points (80). In Midwest Women's Lacrosse Conference play, she led the league in assists (2.13 per game) and ranked second in points (4.88) and fourth in goals (2.75). She was a first team All-MWLC selection.
Maduro, a first team all-conference selection and MWLC Rookie of the Year, tied for the league lead in game-winning goals with three (0.38 per game). She also tied for third in the conference in caused turnovers (2.13) and eighth in goals (2.00). Overall this season, she's scored 25 goals and dished out 14 assists. She has a team-high 30 caused turnovers and ranks third in ground balls (37) and draw controls (31).
Nolan leads Augustana with 80 draw controls and 44 ground balls and is third with 26 caused turnovers. On the year, she has 22 goals and five assists. A second team All-MWLC pick, she was second in the league in draw controls with an average of 4.13.
The three have been key performers for Coach Sara Tisdale's Vikings, who won MWLC regular season and tournament championships this year and currently sport a 16-3 record. Augustana plays its first-ever NCAA tournament game at Redlands on Wednesday, May 8 at 9:00 p.m. CDT.
2013 IWLCA GREAT LAKES ALL-REGION
| | |
| --- | --- |
| First Team | Second Team |
| Stacey Birlson, Adrian, A, Sr. | Carol Allen, Denison, A, Fr. |
| Molly Chapman, Denison, A, So. | Mckenzie Bell, Allegheny, A, Fr. |
| Lauren Chatham, Carthage, A, Jr. | Kaitln Bondy, Wittenberg, GK, Sr. |
| Olivia Duncan, Adrian, A, Sr. | Molly Cornbrooks, Denison, D, Sr. |
| Hannah Early, Adrian, M, Jr. | Gina Fisher, North Central, M, Fr. |
| Ali Gorman, Carthage, GK, Jr. | Erin Keller, Denison, M, So. |
| Ellie Hudson-Heck, Wooster, M, Fr. | KENDALL MADURO, AUGUSTANA, M, FR |
| CHRISTINA LETMANSKI, AUGUSTANA, A, SO | Kari Martyniak, Wooster, D, Sr. |
| Francine Murzynski, Wittenberg, M, Jr. | Carly Minsterman, Allegheny, D, Jr. |
| Olivia Nino, Carthage, D, Sr. | Clare Nelson-Johnson, Wooster, A, Sr. |
| Whitney Powel, Denison, M, So. | Emily Nichols, Kenyon, A, Sr. |
| Rachel Pregel, Denison, D, Fr. | KAYLEE NOLAN, AUGUSTANA, M, FR |
| Leah Sack, Kenyon, A, Sr. | Kelsey Rodgers, Allegheny, M, So. |
| Sara Schwartz, Allegheny, D, So. | Molly Sennett, Wooster, M, So. |
| Jane Symmes, Kenyon, M, Fr. | Stephanie Spencer, Carthage, D, So. |
| Katie Warner, Wittenberg, D, Sr. | Andrea Wambaugh, Carthage, M, Fr. |