May 7, 2013
Football lands six on prestigious Hampshire Society list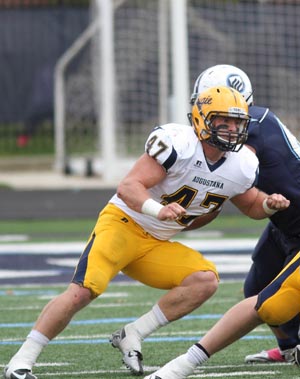 John Draminski was one of six Augustana senior to be named to the Hampshire Society by the National Football Foundation.
DALLAS, Texas - Six graduating seniors on the Augustana football team have been selected as members of the 2013 Hampshire Honor Society by the National Football Foundation. The Vikings honored are: John Draminski (Wethersfield HS, Kewanee, Ill.), Michael Kautz (Alleman HS, East Moline, Ill.), Brett McWilliams (Hononegah HS, Roscoe, Ill.), Pete Schimeck (Benet Academy, Naperville, Ill.), Derek Schneeman (Streator Township HS, Streator, Ill.) and Joe Spindler (Hononegah HS, Rockton, Ill.).

In order to be eligible for inclusion into the Hampshire Honor Society, a player must be a starter or significant contributor and have finished his final year of eligibility. The student-athlete must also carry at least a cumulative grade point average of 3.20. This is the seventh year that the National Football Foundation has sponsored the Hampshire Honor Society. A total of 703 players from 259 schools qualified for membership this year, marking the highest school participation in the history of the program.
Draminski, a second team All-CCIW selection at linebacker, was Augustana's second-leading tackler with 64 tackles and 44 solo stops this year. He had 5 ½ tackles for loss, two sacks and an interception. In addition, he led the Vikings with a pair of blocked kicks. He is a biology and pre-medicine major carrying a 3.64 grade point average.
A two-year starter at offensive tackle, Kautz was a second team All-CCIW selection at left tackle this year. He is majoring in accounting and business administration with a concentration on finance and has a 3.52 GPA.
McWilliams was the Vikings' second-leading rusher this year with 416 yards and four touchdowns on 69 carries, an average of 6.0 yards per attempt. He was also selected to play in the 2012 Tazón de Estrellas (Bowl of the Stars) in Guadalajara, Mexico. As a junior, he led Augustana with 427 yards and five rushing touchdowns. He carries a 3.62 GPA in biology. Schimeck, a defensive end, recorded 18 tackles, including four for loss, in 2011 and was second on the team with three sacks. He has a 3.36 GPA with majors in economics and business administration (finance).
A secondary education and history major, Schneeman carries a 3.43 GPA. After coming to Augustana as a quarterback, he moved to wide receiver. He caught three passes for 24 yards this year.
Spindler, a linebacker, joined high school teammate McWilliams as a Tazón de Estrellas selection as a senior. He recorded 33 tackles in 2012. He had 22 solo stops, 11 assists, four tackles for loss and one sack. He has a 3.38 GPA in business administration (finance).