Augustana debater wins second national award
May  07, 2013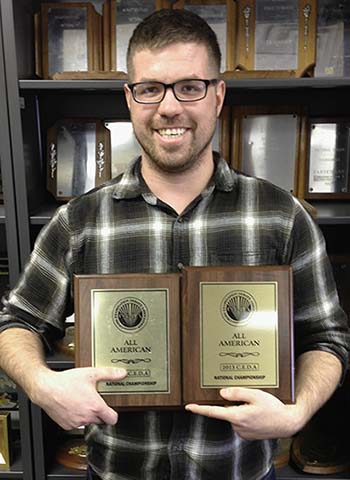 JohnDaniel Englehardt
The debate team at Augustana College, known as the Augustana Debate Union, has a long history of distinguished debaters, and the tradition continues with student debater JohnDaniel Engelhardt selected this year to the All-American Debate Team for the second consecutive year.
The Cross Examination Association's All-American Team award is given to the top 30 debaters from colleges and universities across the nation. The accolade for Engelhardt is all the more remarkable because he joined the Augustana program as a complete novice, said Max Archer, the director of debate in the department of communication studies at Augustana College.
"l debate because it gives you a ton of different ways of looking at the issue, whether it's philosophy or politics," said Engelhardt, a junior with a triple major in communications, political science and religion. "Every debate is different and goes into different areas, plus it's a complex mental fight where you have to think fast and logically."
All-American status recognizes not only debating skills, but also academic performance, good conduct and contributions to the debate programs, according to Archer. In the past five years, he said, Augustana students have been recognized five times with All-American awards while competing against the likes of Northwestern, Georgetown, Dartmouth, Stanford and Harvard.
Augustana's debate teams date back to the first year of the college's existence in 1860. They have continued through the present day, winning numerous awards. Today, the Augustana Debate Union travels like a sports team, attending tournaments this year in Iowa, Missouri, Kansas, North Carolina, Illinois, Texas, Indiana and Idaho.
This year's debate topic addressed the question of whether the U.S. should provide financial incentives to increase domestic energy production. Engelhardt argued it should, and that clean energy should be the focus.
"I don't have a career path in mind, as of yet," Engelhardt said, "but I know that whatever I do, I'll use my debate skills in research, thinking on the fly and understanding complex issues from a lot of different points of view."
Sam Schlouch
Senior Communication Director
(309) 794-7833
samschlouch@augustana.edu