May 7, 2013
Seven Vikings receive all-conference honors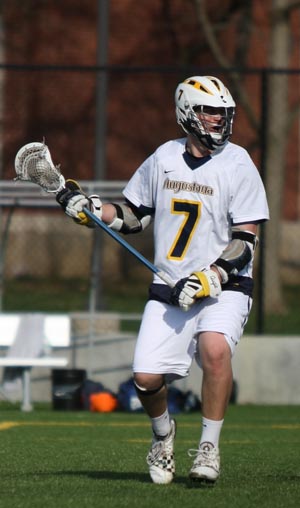 Sophomore midfielder Jesse Nagelberg was named first team all-conference in the Midwest Lacrosse Conference. Nagelberg helped the Vikings to an 11-6 season and a third place finish in the MLC.
ROCK ISLAND, Ill. - Four Augustana players were named to the Midwest Lacrosse Conference all-conference team for 2013, it was announced today. Sophomore midfielder Jesse Nagelberg (St. Charles East HS, St. Charles, Ill.) was the lone Viking named to the first team. Picking up second team honors were sophomore goalie Cody Burgdorff (Peak to Peak HS, Lafayette, Co.), junior defenseman Zack McGinnis (New Trier HS, Kenilworth, Ill.), and sophomore short stick defender Evan Chikeles (Hoffman Estates HS, Hoffman Estates, Ill.).
Nagelberg scored 38 times for the Vikings, ranking him third on the team in goals, while adding ten assists. The midfielder's 2.24 goals per game is the tenth best in the MLC.
It was the Viking defense that racked up three all-conference mentions. Burgdorff held the net in 15 of the 17 games for Augustana, recording a .612 save percentage and allowing an average of 6.81 goals per game. These numbers placed him sixth and eighth, respectively, among the rest of the goalies in the MLC. Playing in only 13 games for the Vikings, McGinnis caused a total of 24 turnovers, a stat the team led in conference. This ranked him third among the rest of his teammates. Chikeles added 33 ground balls and nine caused turnovers for the defense. McGinnis and Chikeles helped the Vikings achieve the second best goals against average in the MLC.
Augustana also had three individuals receive honorable mention for the award. Sophomore Ty Benson (Libertyville HS, Libertyville, Ill.), and attackers Scott Davis (St. Thomas Aquinas HS, Orland Park, Ill.) and Kevin Gleason (Loyola Academy, Chicago, Ill.)were instrumental in Augustana's success as a team. Augustana finished 11-6 overall on the year and 8-2 in conference, which was good enough to place them third in the MLC.
2013 ALL-MLC MEN'S LACROSSE
FIRST TEAM
School
Pos.
Yr.
Hometown/H.S.
Adam Holka
Aurora
G
Jr.
Howell, Mich./Hartland
Johnny Harkins
Aurora
D
So.
Lake Oswego, Ore./H.S.
Corbin Loubert
Aurora
D
Jr.
Grand Rapids, Mich./Forest Hills Central
Christopher Grenz
Concordia (Wis.)
D
So.
Centennial, Colo./Cherry Creek
Max Obriecht
Aurora
MF
So.
Naperville, Ill./North
Jesse Nagelberg
Augustana
MF
So.
St. Charles, Ill./East
Mason Poage
Carthage
MF
Sr.
Columbia, Mo./Hickman
Garret Rosiek
Aurora
A
Jr.
Blue Bell, Penn./WissAhickon
Will McClanahan
Mount St. Joseph
A
Sr.
Cincinnati, Ohio/Madeira
Danny Morse
Carthage
A
Jr.
O'Fallon, Ill./Township
Spencer Fuqua
Aurora
LSM
Jr.
Cypress, Calif./Los Alamitos
Jack Barry
Aurora
SSD
Jr.
San Diego, Calif./Rancho Bernardo
Hunter Douglas
Carthage
F/O
Sr.
Colorado Springs, Colo./Cheyenne Mountain
SECOND TEAM
School
Pos.
Yr.
Hometown/H.S.
Cody Burgdorff
Augustana
So.
G
Lafayette, Colo./Peak to Peak
Zack McGinnis
Augustana
Jr.
D
Kenilworth, Ill./New Trier
Mike Liebrich
Fontbonne
Sr.
D
Oak Park, Ill./Oak Park-River Forest
Brad Lindsay
Carthage
So.
D
Evergreen Colo./H.S.
Justin Krause
Concordia (Wis.)
Jr.
MF
Hartland, Wis./Arrowhead
Jack Meachum
Carthage
Jr.
MF
Naperville, Ill./North
Patrick McClanahan
Mount St. Joseph
So.
MF
Cincinnati, Ohio/Madeira
Ryan Gallagher
Mount St. Joseph
Jr.
A
Chicago, Ill./St. Rita
Danny Loyall
Aurora
So.
A
Naperville, Ill./Central
Peter Slefinger
Carthage
Sr.
A
Wheaton, Ill./Wheaton-Warrenville South
Dylan Roach
Carthage
Fr.
LSM
Beaverton, Ore./Westview
Evan Chikeles
Augustana
So.
SSD
Hoffman Estates, Ill./H.S.
Danny Bundra
Concordia (Wis.)
Fr.
F/O
Lake Zurich, Ill./H.S.
Honorable Mentions: Ty Benson, Scott Davis, Kevin Gleason