May 6, 2013
Vikings face Fontbonne in NCAA tournament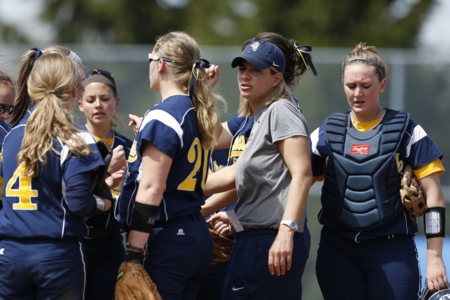 Augustana, led by Coach Kris Kistler, opens NCAA tournament play on Thursday at 2:00 p.m., facing Fontbonne at the regional at Pella, Iowa.
ROCK ISLAND, Ill.- Three straight wins and a championship at this past weekend's CCIW tournament earned Coach Kris Kistler's Augustana softball team the league's automatic bid to the NCAA tournament. The Vikings will face Fontbonne at the regional hosted by Central College in Pella, Iowa on Thursday, May 9 at 2:00 p.m.

Augustana enters tournament play with a 29-12 record and riding a six-game winning streak. The Vikings will be making their sixth NCAA appearance all-time and fifth under Kistler (2004, 2006, 2007, 2010 and 2013). The sixth seed at Pella, they'll be taking on the third-seeded Griffins (33-10). Fontbonne, ranked 23rd in the nation, won its fourth straight St. Louis Intercollegiate Athletic Conference tournament title and with it, the SLIAC's automatic NCAA bid. This will be the school's seventh NCAA appearance and fourth in a row.
Coach Bill Rosner's Griffins ride the pitching combo of junior Rachel McCarthy (14-5, 2.68) and freshman Madison Leonard (11-5, 3.43). A potent Fontbonne offense is paced by junior Marissa Simon (.390-8-39) and sophomores Cassandra (.438-2-40) and Danielle Glixman (.440-5-49).
The Griffins swept a doubleheader from Augustana on March 16, although the Vikings have faced six NCAA tournament participants this season with a record of 8-5 against those opponents. CCIW mates Carthage, Illinois Wesleyan and North Central will all be playing at the regional in Whitewater, Wisconsin.
Other teams in the eight-team double elimination Pella regional include top-seeded St. Thomas (37-5), second seed Central (28-8), fourth and fifth seeds Coe (32-6) and Washington University (30-12) and seventh and eighth seeds Cornell (22-14) and Bethany Lutheran (23-18).
The eight regional champions will advance to the NCAA Division III Softball Championship in Eau Claire, Wisconsin on May 17-21.