May 6, 2013
Vikings headed back to Redlands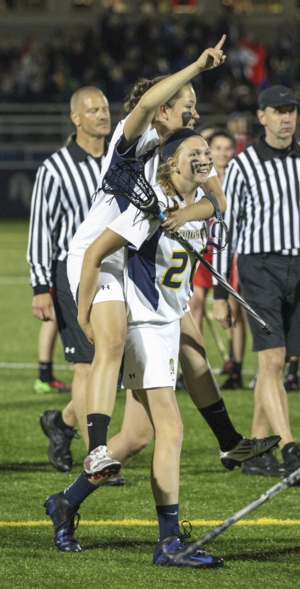 Shelby Cosman gives teammate Kaitlin Hightower a piggyback ride following Augustana's MWLC tournament championship win Saturday. Cosman, Zisser and the rest of Coach Sara Tisdale's Vikings are headed back to Redlands, California for Augustana's first-ever NCAA tournament contest Wednesday at 9:00 p.m. CDT.
INDIANAPOLIS, Ind.- Coach Sara Tisdale's Augustana lacrosse team will not be totally unfamiliar with its opponent in the program's first-ever NCAA tournament game. The NCAA has released the pairings for the 32-team Division III tournament and Tisdale's Vikings will be headed back to Redlands, California for a first-round date with the University of Redlands Bulldogs. That game is scheduled for Wednesday, May 8 at 9:00 p.m. CDT.

Augustana, 16-3 and champions of the Midwest Women's Lacrosse Conference in just the program's second season, will be making its first NCAA tournament appearance. The team won the MWLC's automatic tournament bid with a 10-9 win over North Central Saturday in the conference tournament championship game. Redlands, by comparison, is an NCAA tournament veteran, making its third appearance. The Vikings and Bulldogs met in Augustana's 2013 season opener, with Redlands winning 18-6.
The Bulldogs (15-4) earned an at-large bid to the tournament, winning both the regular season and tournament titles in the Southern California Intercollegiate Athletic Conference. Junior Jacky Craycraft is Redlands' leading goal scorer with 56, but three other Bulldogs have found the net at least 38 times this year. Senior Ana Martinez (9.03 GAA, .424 save percentage) handles the goalkeeping duties for Coach Suzette Soboti's club.
If Augustana can avenge its season-opening loss, its second-round opponent would be the winner of Trinity (Conn.), the nation's top-ranked team, and Montclair State.