May 5, 2013
Vikings sweep Big Blue 3-2 and 10-1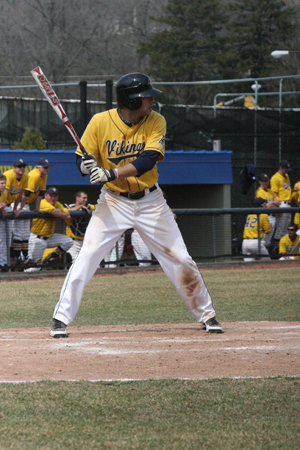 Junior Jacob Van Duyne had five hits Sunday as Augustana swept Millikin 3-2 and 10-1 in a doublheader at Swanson Stadium/Brunner Field.
MOLINE, Ill.-Junior Jacob Van Duyne (Wilmington HS, Wilmington, Ill.) had five hits Sunday as 21st-ranked Augustana wrapped up regular season play with a 3-2, 10-1 doubleheader sweep of Millikin at Swanson Stadium/Brunner Field. The series was originally scheduled to be played in Decatur, Illinois, but inclement weather forced the move to the Vikings' facility. Augustana improves to 29-8 overall and finishes 14-6 and in second place in the CCIW. The Big Blue fall to 8-25 and 2-18.

With the game originally scheduled to be played at Millikin, the Vikings were designated as the visiting team for both seven-inning contests. The third game of the series was canceled.
Game One - Augustana 3 , Millikin 2
With Viking ace Seth Davis (Mullen HS, Aurora, Colo.) cruising through the first five innings, Augustana jumped out to a 3-0 lead with a pair of runs in the third and one in the fourth.
Senior Jeremy Juhl (Glenbard East HS, Lombard, Ill.) and Van Duyne got back-to-back infield hits with one out in the top of the third and sophomore Danny Fifer (Lincoln-Way West HS, New Lenox, Ill.) followed with an RBI double to right. Senior Kurt Schmidt (Grayslake Central HS, Grayslake, Ill.) plated Van Duyne with a sacrifice fly to right.
Senior Mark VanNatta led off the fourth with a triple down the right field line and senior Jared McIntosh (Assumption HS, Davenport, Iowa) delivered him with a sacrifice fly to right to make it 3-0.
Davis allowed just one hit through five innings, but ran into trouble in the sixth. A Viking error, a hit and a wild pitch plated the first Big Blue run and an RBI single got Millikin to within 3-2. Augustana Coach Greg Wallace called on Darwin Townsend (Libertyville HS, Libertyville, Ill.) out of the pen and after unleashing a wild pitch, the freshman right-hander picked a Big Blue runner off second and got the final out of the inning on a grounder to Juhl at short.
Senior closer Rick Erickson (Lake Zurich HS, Hawthorn Woods, Ill.) came on for the seventh and retired Millikin to earn his eighth save of the season. Davis improved to 6-1 with the win. He allowed three hits and one earned run in 5 1/3 innings, walking three and fanning five.
Van Duyne went 3-for-4 and Juhl 2-for-3 to pace a nine-hit Augustana attack.
Game Two - Augustana 10, Millikin 1
Wallace got tremendous production from the bottom of his order in game two. Brandon Jasper (Central DeWitt HS, DeWitt, Ill.), Kyle Lenihan (Romeoville HS, Romeoville, Ill.) and Juhl - his seven, eight and nine hitters - went a combined seven of eight with six runs and five RBI in the lopsided win.
The Vikings gave starter Ben Heaton (Bloomington Central Catholic HS, Heyworth, Ill.) all he would need in the way of offense with a six-run second. Senior Grant Stewart (Sterling HS, Sterling, Ill.) drew a leadoff walk and sophomore Nick Tenerelli (Downers Grove South HS, Downers Grove, Ill.) was hit by a pitch. VanNatta moved them up with a sacrifice and Jasper legged out an infield hit, driving in the first run. Lenihan doubled in two runs and back-to-back singles by Juhl and Van Duyne loaded the bases. Fifer was hit by a pitch, forcing in a run and Schmidt singled in another. A Stewart sacrifice fly plated the sixth run of the frame.
A hit batter, passed ball, single and error allowed Millikin to get one run back in the bottom of the second, but Augustana came right back with two in the top of the third on Juhl's bases-loaded single and a sacrifice fly by Fifer. The same two Vikings each drove in a run in the fifth as the lead grew to 10-1.
Heaton, who improved to 5-1 with the win, gave up just one run on two hits through five innings before giving way to freshman Brandon Bollman (Lincoln-Way East, Frankfort, Ill.). Bollman went the final two innings, extending his scoreless streak to 16 innings.
Jasper went 3-for-3 with three runs scored and an RBI in his first start of the season. Lenihan was 2-for-2 with two runs and two RBI and Juhl went 2-for-3 with a run scored and two driven in. Van Duyne and Schmidt each had two of Augustana's 15 hits and Fifer knocked in three runs.
The Vikings now move on to the CCIW tournament in Bloomington, Illinois. Second-seeded Augustana faces third seed North Park on Thursday, May 9 at 6:00 p.m.