May 4, 2013
Vikings seventh at CCIW Championship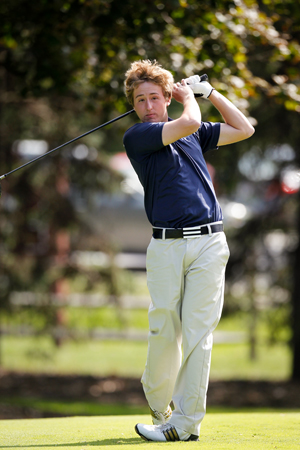 Sophomore Jake Groselak was Augustana's top finisher with a 24th-place 320 at the CCIW Championship, which wrapped up this weekend in Elgin, Illinois. The Vikings finished seventh in th eteam standings
ELGIN, Ill.-The CCIW Men's Golf Championship concluded with the final two rounds on Friday and Saturday at Elgin Country Club. Led by sophomore Jake Groselak's (Lemont HS, Lemont, Ill.) four-round total of 320, Augustana shot a collective 1320 to finish seventh in the team standings. Illinois Wesleyan won the team title and Millikin's Wes Hillen won individual medalist honors.

Groselak (82-77-84-77 - 320) finished in 24th place. Classmate Max Channon (Wheaton Warrenville South HS, Wheaton, Ill.) shot a 336 (80-90-82-84) to tie for 36th. Rounding out Coach Paul Del Vecchio's contingent were freshman David Ferlmann (Peoria Notre Dame HS, Dunlap, Ill.) (79-87-86-85 - 337), who finished 38th and sophomore Grant Murphy (Dunlap HS, Peoria, Ill.) (84-85-84-85 - 338), who was 39th.
Junior Dave Cook (United Township HS, Silvis, Ill.) withdrew after shooting a 167 (85-82) in the first two rounds on April 20. Sophomore Josh Kukla (Zion Benton HS, Winthrop Harbor, Ill.) shot a 161 (80-81) playing as an individual in the first two rounds and finished up with a 172 (82-89) this weekend.