May 4, 2013
Jones and Smith double winners at CCIW meet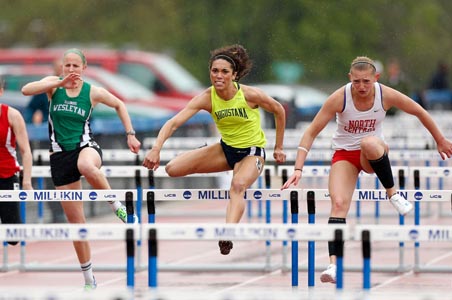 Junior Kierra Smith won championships in both hurdle events Saturday and broke her own school record in the 400 hurdles at the CCIW Track & Field Championship in Decatur, Illinois.
DECATUR, Ill.-Senior Sarahbeth Jones (Warren Township HS, Wadsworth, Ill.) and junior Kierra Smith (Creston HS, Creston, Iowa) were both double winners at this year's CCIW Track & Field Championship, which wrapped up Saturday at Millikin University. Jones, named the Track Athlete of the Meet, added a 5000-meter title to Friday's 10,000 championship and Smith won the 100 and 400 hurdles to help Augustana to a fourth-place team finish.

Jones set a meet record of 17:28.01 in the 5000. Sophomore teammate Jessica Bacon (Rock Island HS, Rock Island, Ill.) was third in 17:46.96. Smith took the 100-meter hurdle title with a time of :15.17 and won the 400 hurdles in 1:01.56, breaking her own school record in the process. Freshman Annie Martines (St. Charles East HS, St. Charles, Ill.) ran a 1:05.77 for third place in the 400 hurdles.
In addition to her third in the 5000, Bacon brought home a pair of second-place finishes, running a 2:17.06 in the 800 and a 4:39.11 in the 1500.
In the triple jump, senior Samantha Bazely (Alleman HS, Coal Valley, Ill.) and sophomore Astin Moravek (Riverside-Brookfield HS, Riverside, Ill.) took fourth and fifth, respectively, with leaps of 34' 4¼" and 34' 3".
Junior Liana Beauchamp took seventh in the shot with a heave of 34' 10½" and senior Lauren Hoffman (Wheaton North HS, Winfield, Ill.) cleared 4' 10½" to finish seventh in the high jump.
Coach Fred Whiteside's Vikings picked up a pair of sixth-place finishes in the 4x100 and 4x400 relays. Freshman Kayla Bushey (Luther North HS, Chicago, Ill.) led off the 400 relay, followed by Martines, junior Taelar Hillyer (Alleman HS, Bettendorf, Iowa) and Moravek. They finished in :52.36. The 1600 relay team of Martines and juniors Kristyn Barton (York HS, Elmhurst, Ill.), Johanna Schnitzler (Downers Grove South HS, Woodridge, Ill.) and Smith finished in 4:08.32.
North Central claimed the team title with 228.5 points. Illinois Wesleyan (170.5) finished second and Carthage (129) third. Augustana was fourth with 117 points, followed by Wheaton (76), Millikin (55), Elmhurst (23) and North Park (18).
The Vikings will be competing at the Chicago Penultimate in Chicago, Illinois on May, 11.