May 4, 2013
Rindone leads Vikings to 2nd at CCIW meet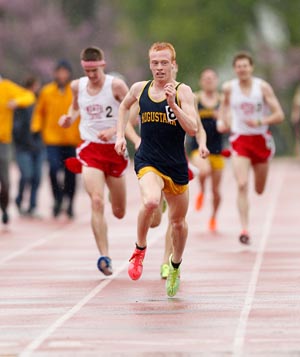 Freshman Keith Sands won the 5000-meter title Saturday at the CCIW Track & Field Championhip in Decatur, Illinois.
DECATUR, Ill.- Senior Alex Rindone (Marmion Academy, Geneva, Ill.) won Track Athlete of the Meet for the second time in three years Saturday, leading Augustana to second place at the 2013 CCIW Track & Field Championship. Rindone won the 100 and 200 and anchored the Vikings' winning 4x100 and 4x400 relays. North Central won the team title.

Rindone, who was also the CCIW's Track Athlete of the Meet in 2011, won the 100 in :11.04 and the 200 in :21.70. He was joined on the winning 4x100 team by sophomore David Devore (Midland HS, Midland, Mich.), senior Greg Patton (Bloomington HS, Bloomington, Ill.) and junior Jay Graffagna (Geneva HS, La Fox, Ill.). That unit finished in :41.62. Senior Dan Doubet (Galesburg HS, Galesburg, Ill.), sophomore Antonio Owens (Naperville North HS, Naperville, Ill.) and Voland preceded Rindone on the 4x400 relay, which won in 3:15.87.
Patton and Voland were also winners individually in the 400 and 400 hurdles, respectively. Patton won with a time of :48.26 and Voland in :52.84. Freshman Keith Sands (United Township HS, Silvis, Ill.) was the 5000-meter champion with 14:48.78 clocking.
Senior Ethan Gale (Oregon HS, Oregon, Ill.) finished a close second in the decathlon, winning three events and finishing with a score of 6,170. Senior Kevin Macek (Sandburg HS, Orland Park, Ill.) threw the discus 152' to earn a second-place finish as well and Patton was second to Rindone, with a :22.31 in the 200.
In the 100, Devore's :11.31 was good for third behind Rindone. Graffagna was seventh in :11.52 and sophomore Keith Cline (Byron HS, Byron, Ill.) eighth in :13.15. Owens was third behind Patton in the 400 with a :48.81.
Junior Justin Davidson (Galesburg HS, Galesburg, Ill.) cleared 6' 3½" to finish fourth in the high jump and senior Mike Tovar went 42'11" to take fourth in the triple jump. Junior Joshua Eisenberg (Richmond-Burton HS, Spring Grove, Ill.) was fourth in the decathlon with 5,853 points.
Macek put the shot 48' 2 ¾" to earn a fifth-place finish. Senior Jonathan Smith (Moline HS, Moline, Ill.) ran a 14:52.68 to finish fifth behind Sands in the 5000. In the 800, junior Chris Madison (Downers Grove South HS, Downers Grove, Ill.) ran a 1:54.34 to finish fifth, one spot ahead of sophomore Vincenzo Dal Pozzo (Neuqua Valley HS, Naperville, Ill.), who finished in 1:54.51. Voland and sophomore Kyle Bennett (Davenport West HS, Davenport, Iowa) took fifth and sixth in the 100 hurdles, with times of :15.50 and :15.97, respectively. Bennett (:55.07) was also fifth behind Voland in the 400 hurdles, while freshman Jeremy Lang (Rockford Christian HS, Stillman Valley, Ill.) was eighth in :58.76.
Sophomore Keegan Buttimer (Riverside-Brookfield HS, Riverside, Ill.) and senior Justin Smith (Fenton HS, Bensenville, Ill.) were sixth and seventh, respectively, in the 1500 with times of 3:57.83 and 3:58.64. Sophomore Nowlan Savage (Arapahoe HS, Highlands Ranch, Colo.) was sixth in the 200 with a time of :26.49, while Devore was eighth in :34.73. Sophomore Jacob Benner (Batavia HS, Batavia, Ill.) was eight in the discus with a mark of 139' 9".
The Vikings' total of 216 points trailed only North Central's 264. Carthage was third with 154 points, followed by Wheaton (75), Illinois Wesleyan (58), Millikin (24.5), North Park (21.5) and Elmhurst (five).
Coach Paul Olsen's squad will compete in North Central's Twilight Qualifier on May 10 in Naperville, Illinois.