May 4, 2013
Augustana claims CCIW tournament title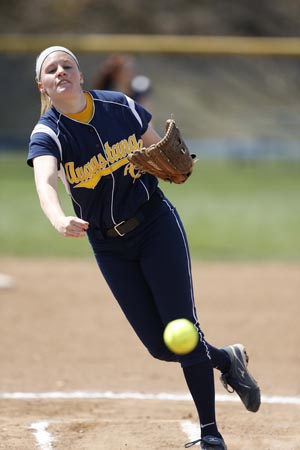 Junior right-hander Sarah Hintz went six-plus shutout innings Saturday to defeat Carthage for the second time in two days as Augustana won its fourth CCIW tournament title with a 4-0 win.
KENOSHA, Wis.-Augustana turned double plays in each of the last three innings Saturday to protect a lead and come away a 4-0 winner over Carthage for the CCIW tournament championship. Now 29-12, the Vikings claim the conference's automatic NCAA tournament berth. Top-seed and regular season champion Carthage falls to 30-10 on the year.

Coach Kris Kistler's club rode the troika of solid pitching, good defense and timely hitting to claim the program's fourth CCIW tournament title. Augustana wins over Illinois Wesleyan and Carthage on Friday meant that the Lady Reds would have had to defeat the Vikings twice on Saturday for the championship.
Augustana starter Sarah Hintz (Le Roy HS, Le Roy, Ill.) shut Carthage out through six-plus innings before giving way to freshman Ashley Anderson (Sherrard HS, Viola, Ill.), who finished the seventh to earn her second save in as many days and third of the season. Hintz allowed six singles and two walks while fanning three to get a win over the Lady Reds for the second day in a row and improve to 13-6 this year.
Freshman Cheyenne Burnett (Rock Falls HS, Rock Falls, Ill.) and sophomore Jenna Teson (Jacobs HS, Algonquin, Ill.) paced the offense. Burnett went three for three with two runs scored and one driven in and Teson was two for three with a pair of RBI.
With the Vikings designated as the home team, Burnett led off the bottom of the second with a single to left. Two outs later, sophomore Christian Pagan (Normal West HS, Normal, Ill.) was hit by a pitch, pushing Burnett to second. Teson followed with a single through the left side, scoring Burnett for a 1-0 Augustana lead.
The Vikings added a run in the third on a two-out Jamie Rehmert (Sterling HS, Sterling, Ill.) double down the right field line and Burnett's RBI single to right center.
After managing just two base runners off Hintz through four innings, the Lady Reds loaded the bases with one out in the fifth. However, the junior right-hander coaxed Jen Precht to ground to Chaney Tambling (Dwight HS, Dwight, Ill.) for a third-to-home-to-first double play to end the frame.
Another double play erased a Carthage runner in the top of the sixth and the Vikings added a pair of insurance runs in the bottom. Burnett came through with another leadoff single and Tambling sacrificed her to second. An Anderson ground out moved Burnett to third and she scored on Teson's infield hit to make it 3-0. Augustana added a run on a Lady Red miscue to lead 4-0 after six.
After Carthage started in seventh with a pair of singles, Anderson came on to relieve Hintz. The first batter she faced, Alyse Mikolas, lined to Krista Watson (Coal City HS, Coal City, Ill.) at short, who threw to Teson to double the runner off second. After issuing a walk, Anderson got Precht to fly to center to end the game.