May 4, 2013
Vikings lose to Carthage in third place CCIW match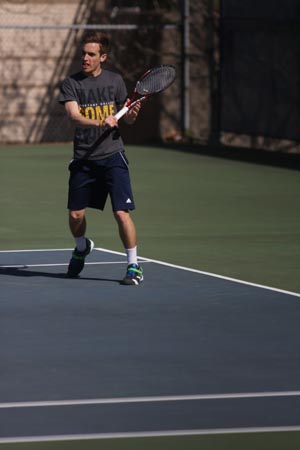 Freshman Patrick Lenz beat Alex Feruzzi 6-4; 6-3 at number six singles to finish the 2012-13 season with an 11-1 record as Augustana fell to Carthage 5-4 in the third place match of the CCIW Tournament on Saturday, May 4 in Kenosha, Wisconsin.
BLOOMINGTON, Ill. - After taking a 2-1 lead coming out of doubles, Augustana couldn't hold on and dropped 5-4 decision to Carthage in the third place match of the College Conference of Illinois & Wisconsin men's tennis tournament on Saturday, May 4 in Bloomington, Illinois. The Vikings end their fine season with a 19-11 overall record.

The number two doubles team of senior Jack Cullen (Edgewood HS, Madison, Wis.) and junior Colin Arnold (Sterling HS, Sterling, Ill.) defeated Conor Moon and Brandon Curtis 8-3 at number two doubles to finish the year 10-3. The number three team of junior Kevin Bayles (Homewood-Flossmoor HS, Flossmoor, Ill.) and senior Will Palmer (Schiller International School, Leicester, England) pulled off a hard-fought 9-7 at number three doubles over Ryan Jump and Brian Howes to end the year 10-2.
Augustana's number one doubles team of sophomore Lawrence Palmer (Schiller International School, El Prat de Llobregat, Spain) and junior Andy Wall (Notre Dame Academy, De Pere, Wis.) fell to Jeff Lotz, Jr. and Alex Boomgarden 8-4 and wound up 17-10 on the year.
Moving into singles, the Vikings needed three victories but could only manage wins at number four and number six. Bayles beat Howes in three sets (6-3; 4-6; 6-4) at number four to move his record to 22-12. Freshman Patrick Lenz (Villanova Prep School, Ojai, Calif.) stepped in at number six and beat Alex Ferruzzi 6-4; 6-3 to make his record 11-1.
Palmer and Arnold both dropped three set matches at number one and five singles respectively. Palmer fell to Lotz, Jr. by a count of 6-4; 6-7; 4-6 and Arnold lost to Tom Klassman 4-6; 6-1; 1-6.