May 3, 2013
Men's track & field second in CCIW after day one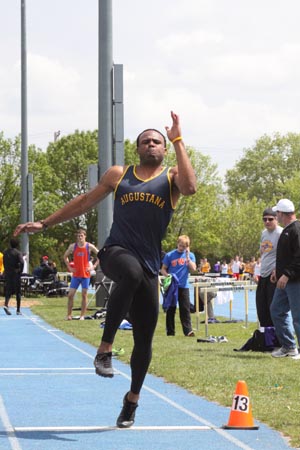 Senior Mike Tovar placed second in the long jump at the first day of the CCIW Championships on May 3 in Decatur, Illinois. He uncorked a leap of 21' 8" and the Vikings are in second place in the team standings.
DECATUR, Ill. - Augustana used multiple place-winners in four field event finals to move into second place in the College Conference of Illinois & Wisconsin men's track & field championship after the first day of competition. The Vikings, who are competing at Millikin in Decatur, Illinois, totaled 54 points after six events were completed.

North Central leads with 96 and Augustana is in second with 54, just three ahead Carthage's third place total of 51. Wheaton (20), Illinois Wesleyan (7), Elmhurst (3), North Park (2) and Millikin (1) round out the field.
Senior Mike Tovar (Mooseheart HS, Chicago, Ill.) placed second in the long jump with a leap of 21' 8". Senior Jacob O'Rourke (Davenport Assumption HS, Bettendorf, Iowa) took fifth (21' 1 ½") and sophomore Kevin Gordy (Lincoln-Way West HS, Mokena, Ill.) was sixth (21' 0").
Sophomore Jeff Padesky (Moline HS, Moline, Ill.) soared over 15' 0 ½" to grab second in the pole vault. Senior Colton VanKirk (Rochelle HS, Rochelle, Ill.) was fifth (14' 0 ½"), sophomore Andrew Lulis (Lake Zurich HS, Lake Zurich, Ill.) took sixth (13' 6") and junior Will Lardner (Mundelein HS, Mundelein, Ill.) was seventh (13' 6 ½").
Senior Kevin Macek (Carl Sandburg HS, Orland Park, Ill.) uncorked a throw of 161' 6" to take third in the hammer and sophomore Jacob Benner (Batavia HS, Batavia, Ill.) was eighth (145' 6").
Sophomore Alec Seymour (Riverton HS, Riverton, Ill.) was third in the javelin with a toss of 166' 2" with senior Mike Anderson (Richmond-Burton HS, Spring Grove, Ill.) taking fifth (161' 4") and senior Luke Anderson (Lemont HS, Lemont, Ill.) placing seventh (158' 4").
Senior Nathan Smith (Fenton HS, Bensenville, Ill.) finished sixth in the 10,000 with a time of 32:22.26 while sophomore Grant Bell (Belgrade-Brooten-Elrosa HS, Belgrade, Minn.) was eighth in 32:49.85.
The Vikings have four finalists in the 100 and 200 for Saturday and two in the 400 and 800. Senior Alex Rindone (Marmion Academy, Geneva, Ill.) has the fastest time in the 100 (:10.74) and 200 (:21.80). Senior Greg Patton (Bloomington HS, Bloomington, Ill.) has the second best clocking in the 400 (:48.91) and sophomore Vincenzo Dal Pozzo (Neuqua Valley HS, Naperville, Ill.) is the second fastest in the 800 (1:53.51).
Sophomore David Voland (Batavia HS, Batavia, Ill.) heads into the 110 high hurdles with the third best time (:15.35) and the 400 intermediate hurdles with the second fastest (:54.73).