May 3, 2013
Jones wins 10,000 at CCIW Championships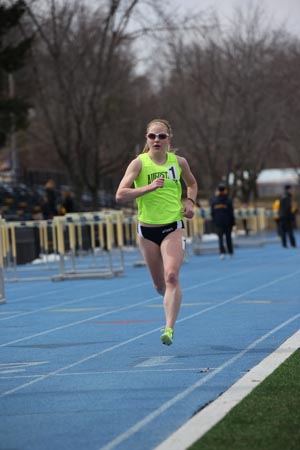 Senior Sarahbeth Jones won the 10,000 at the CCIW Championships on Friday, May 3 in Decatur, Illinois. It is the fourth CCIW title during her illustrious career.
DECATUR, Ill. - Senior Sarahbeth Jones (Warren Township HS, Wadsworth, Ill.) won the fourth College Conference of Illinois & Wisconsin individual title of her career on Friday, May 3 in Decatur, Illinois. Jones picked up a victory in the 10,000 with a time of 37:22.36 to help Augustana to a third place point total in the team standings heading into the final day of competition.

Jones, who owns two titles in the indoor 3000 and one in the outdoor 5000, ran the second fastest 10,000 time in Augustana history. The only one faster is the school record 36:21.85 clocked by former NCAA Division III All-American Susan Paige in 1999.
After one day of competition (six events), the Vikings are in third place with 45.50 points. Illinois Wesleyan leads with 64.50 and North Central is second with 54. Carthage is in fourth with 31 and Wheaton is fifth with 28. Millikin (8) and North Park (3) round out the field.
Sophomore Lizzie Lundine (Willowbrook HS, Villa Park, Ill.) also placed in the 5000, taking fifth in 39:36.55.
Freshman Kayla Bushey (Luther North HS, Chicago, Ill.) was third in the javelin with a toss of 116' 7" and junior Lauren Schneiderbauer (Sterling HS, Sterling, Ill.) took sixth at 110' 9". Junior Taelar Hillyer (Rock Island Alleman HS, Bettendorf, Iowa) cleared 10' 11 ¾" to take third in the pole vault and freshman Danielle Engel (St. Charles North HS, St. Charles, Ill.) was eighth with a height of 9' 6 ½".
Junior Liana Beauchamp (Genoa-Kingston HS, Kingston, Ill.) finished fourth in the hammer with a mark of 156' 3".
Junior Amanda Pease (United Township HS, Hampton, Ill.) led three Vikings to places in the 3000 steeplechase. She was fourth in 11:54.00 while senior Annie Heifner (Oregon HS, Oregon, Wis.) took sixth in 12:03.27 and junior Kristen Whiteside (Zion-Benton HS, Winthrop Harbor, Ill.) was eighth in 12:15.52.
Sophomore Astin Moravek (Riverside-Brookfield HS, Riverside, Ill.) placed seventh in the long jump with a leap of 16' 11 ½".
Junior Kierra Smith (Creston HS, Creston, Iowa) had quite a day in the preliminary rounds as she will take the fastest time in the 400 hurdles (1:02.39) and second fastest in the 100 hurdles (:15.11) into today's finals. Sophomore Jessica Bacon (Rock Island HS, Rock Island, Ill.) recorded the second best time in the 800 when she ripped off a 2:17.08 in the qualifying round.