May 3, 2013
Vikings defeat Concordia 19-5 in MWLC semis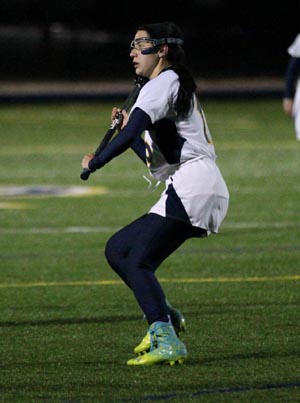 Freshman Kaylee Nolan scored five goals Friday night as Augustana won its MWLC Tournament semifinal 19-5 over Concordia. The Vikings take on North Central in the championship game Saturday night at 7:00 p.m.
ROCK ISLAND, Ill. - Freshman Kaylee Nolan (Sandburg HS, Orland Park, Ill.) scored five goals Friday night to lead Augustana to a 19-5 win over Concordia in the semifinals of the Midwest Women's Lacrosse Conference Tournament at Thorson-Lucken Field. The Vikings, now 15-3 on the year, host North Central (12-4) in Saturday's championship game at 7:00 p.m.

Nolan put Augustana on top just over a minute in, scoring her 18th goal of the season off a Kendall Maduro (Neuqua Valley HS, Naperville, Ill.) assist. Sophomores Kelly Stelzer (Wheaton Warrenville South HS, Wheaton, Ill.) and Christian Letmanksi (Glenbard West HS, Wheaton, Ill.) scored unassisted goals to make it 3-0 before Halyley Peppers got the Falcons on the board at the 20:29 mark of the opening half.
Letmanski, Stelzer and Nolan all scored in less than a one-minute span to put the hosts up 6-1 with 14:20 left before halftime. Freshman Emily Handrahan (Lake Zurich HS, Hawthorn Woods, Ill.) assisted on Letmanski's and Nolan's goals.
After a Sam Meuwissen goal got Concordia to within 6-2 at the 13:27 mark, Augustana scored the final five goals of the half to go to the break leading 11-2. Nolan had two of those five goals.
The Vikings scored the first five goals after intermission as well, including a pair by Allie Roehrenbeck (Columbus Academy, Gahanna, Ohio), to go up 16-2. Peppers stopped the onslaught temporarily with a goal, but Letmanksi answered with her third of the night and Handrahan scored twice to stretch the lead to 19-3. The Falcons' Hannah Redden and Peppers closed out the scoring with goals at 2:33 and 0:01, respectively.
In addition to Nolan's five goals, Stelzer had four and Letmanski three. Handrahan finished with three assists and sophomore Hilary Kargl (Sacred Heart Academy, Louisville, Ky.) two. Freshman Shelby Cosman (Marian Catholic HS, St. John, Ind.) a team-high five ground balls and was one of four Vikings, along with Stelzer, Maduro and Roehrenbeck, to cause three turnovers apiece. Sophomore Sarah Osier (Naperville Central HS, Naperville, Ill.) went the distance in goal, recording three saves.