Opera @ Augustana to present "Pirates of Penzance"
May  02, 2013
Opera @ Augustana will present Gilbert and Sullivan's The Pirates of Penzance on May 10-11 at 8 p.m. in Wallenberg Hall, within the Denkmann Memorial Building (3520 7th Ave.). Tickets are $12 for the general public; $10 for senior citizens, students, Augustana faculty and staff; and $8 for children age 12 and under.
The daring, yet tenderhearted Pirates of Penzance are sure to take you on a hilarious adventure where you will encounter an unconventional major general, his doe-eyed daughters and a group of blundering policemen. As the pirates attempt to retain Frederic, their formerly apprenticed pirate, this cackle of sidesplitting characters battle the principles of honor and duty.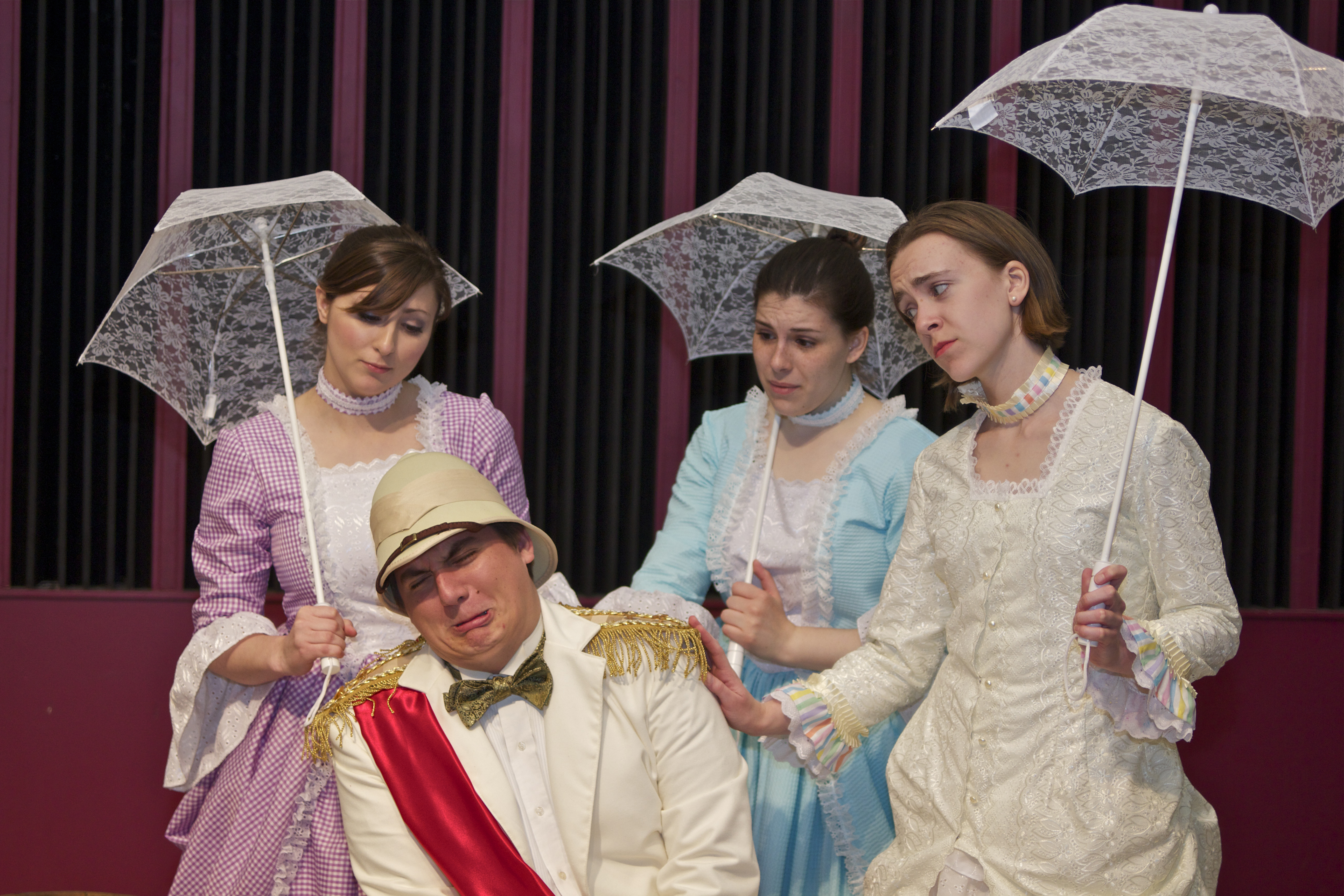 From left, Alicia Lumberry (Kate), Silvi Ramirez-Bertolasi (Edith) and
Katie Boardman (Mabel). Seated, Stuart Buthod (Major General Stanley).
Brian Jozwiak '15, a music education major from Vernon Hills, Ill., who plays the Pirate King, is looking forward to sharing Gilbert and Sullivan's unique British humor with the audience. "The rehearsal process for this production has been extremely rewarding. Each of the cast members brings a unique perspective and together, we know how to have a really good time. We have worked hard for the past two months and are looking forward to finally presenting our finished product!"
Tickets for The Pirates of Penzance can be purchased through the Augustana Ticket Office at (309) 794-7306 or by visiting www.augustana.edu/tickets.
Sam Schlouch
Senior Communication Director
(309) 794-7833
samschlouch@augustana.edu