May 2, 2013
Vikings sit 17th in NCAA duel meet rankings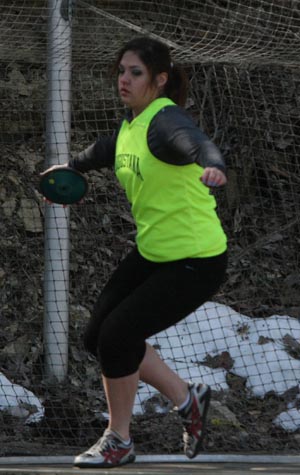 Augustana junior Liana Beauchamp broke her own school record in the hammer throw at the Beloit Relays held on April 26-27 by throwing a distance of 157'6". Beauchamp and the Vikings move to the CCIW championships which will take place in Decatur, Illinois on May 3-4.
ROCK ISLAND, Illinois - The Augustana women's track & field team heads into the College Conference of Illinois & Wisconsin championships ranked 17th in the most recent NCAA Division III according to the US Track & Field/Cross Country Coaches Association's dual meet power rankings. The team currently ranks as the third CCIW team in the poll next to North Central and Carthage.

The Vikings are coming off a second place finish at the Beloit Relays as they brought home four individual titles as well as a new school record. Junior Liana Beauchamp (Genoa-Kingston HS, Kingston, Ill.) broke her own school record by tossing a distance 157'6" in the hammer throw. Senior Kirstillyn Pohlman (Zion-Benton HS, Winthrop Harbor, Ill.) won the 10,000 meter run, junior Kierra Smith (Creston HS, Creston, Iowa) led the way in the 400 meter hurdles, sophomore Lizzie Lundine (Willowbrook HS, Villa Park, Ill.) finished first in the 5,000 meter run, and junior Taelar Hillyer (Rock Island Alleman HS, Bettendorf, Iowa) placed ahead of the competition in the pole vault. Augustana also sent individuals to compete at the Drake Relays.
Augustana opened the outdoor season with a victory at the Viking Olympics on March 23 in a field consisting of ten teams and followed with a third place finish in their home Augustana Open on March 28. A trio of second place finishes at the Wartburg Select on April 6, the Luther Relay on April 13, and the Augie Invite on April 20 gives the Vikings an imposing résumé as they head to their conference meet.
Wisconsin-LaCrosse currently leads the NCAA Division III poll, which ranks the top two performances by each team in every event, with 201.92 points. Tufts sits in second with 196.84 points, while Massachusetts Institute of Technology follows with 188.07 points. Ohio Wesleyan (182.99) and North Central (181.61) round out the remaining of the top five. The Vikings look to carry their momentum into the CCIW championships, which will be hosted in Decatur, Illinois on May 3-4.
2013 NCAA DIVISION III OUTDOOR DUAL MEET POWER RANKINGS
Sponsored by the USTFCCA ** As of 04/30/2013
| | | | |
| --- | --- | --- | --- |
| RANK | SCHOOL | REGION | POINTS |
| | | | |
| 1. | Wisconsin-LaCrosse | Midwest | 201.92 |
| 2. | Tufts | New England | 196.84 |
| 3. | Massachusetts Institute of Technology | New England | 188.07 |
| 4. | Ohio Wesleyan | Great Lakes | 182.99 |
| 5. | North Central | Midwest | 181.61 |
| 6. | Claremont Mudd-Scripps | West | 179.91 |
| 7. | Ithaca | Atlantic | 177.26 |
| 8. | Williams | New England | 176.16 |
| 9. | SUNY Cortland | Atlantic | 171.83 |
| 10. | Nebraska Wesleyan | Central | 171.83 |
| 11. | St. Lawrence | Atlantic | 170.62 |
| 12. | Washington (Missouri) | Midwest | 169.79 |
| 13. | Monmouth (Illinois) | Midwest | 169.26 |
| 14. | SUNY Brockport | Atlantic | 166.34 |
| 15. | Carthage | Midwest | 166.14 |
| 16. | Bates | New England | 165.85 |
| 17. | Augustana | Midwest | 165.37 |
| 18. | Johns Hopkins | Mideast | 164.88 |
| 19. | Wisconsin-Stevens Point | Midwest | 159.91 |
| 20. | Wisconsin-Stout | Midwest | 159.79 |
| | | | |