May 2, 2013
Watson 1st team All-CCIW; Behnke and Lavin 2nd team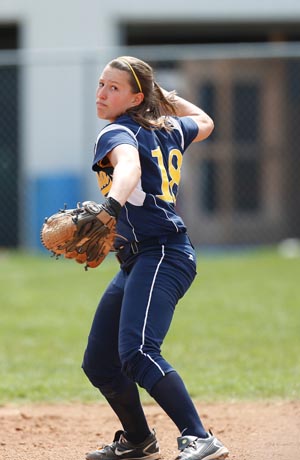 CCIW home run leader Krista Watson was named to the all-conference team for the third consecutive year. The junior shortstop was a first team selection, while sophomore outfielders Chelsea Lavin and Laura Behnke were named to the second team.
NAPERVILLE, Ill.-Three Augustana softball players, led by first team selection Krista Watson (Coal City HS, Coal City, Ill.), have been named to the College Conference of Illinois & Wisconsin all-conference team. Sophomore outfielders Laura Behnke (St. Francis HS, Roselle, Ill.) and Chelsea Lavin (Downers Grove South HS, Downers Grove, Ill.) were named to the second team.

Watson, a junior shortstop earned All-CCIW recognition for the third year in a row. She was a first team pick as a freshman in 2011 and a second team selection last year. She has started all 38 Vikings games this year and is hitting .281 with seven homers and 22 RBI. She's tied for the team lead in homers and ranks second in RBI and runs (tied with 21). In conference play, she hit .348 with a league-leading five home runs. She was also second in the CCIW in total bases with 33 and fifth in slugging at .717.
Watson is climbing the career charts at Augustana as well. Her 17 homers are fourth-best in school history and her 29 doubles are currently tied for eighth.
Behnke, the Vikings' leadoff hitter, has paced the offense all year. She ranks second on the club with a .411 batting average and leads in runs (26), hits (51), triples (four), homers (tied with seven) total bases (85), slugging (.685), walks (14), on-base percentage (.479) and stolen bases (10 for 11). Her 19 RBI are tied for third on the team. She tied for second in the CCIW with four home runs in league play.
After being used primarily as a pinch-runner as a freshman, Lavin has been a fixture in right field for Augustana this year. She leads the Vikings with a .419 average and is tied for the team lead with nine doubles. She also ranks second in on-base percentage (.470), triples (tied with two) and runs (tied with 21) and third in slugging (.543). Her career batting average of .404 is currently fourth-best in school history.
Coach Kris Kistler's club finished the regular season 26-12 overall and 7-7 in the CCIW and begins conference tournament play in Kenosha, Wisconsin on Friday May 3. The third-seed, the Vikings take on second-seeded Illinois Wesleyan at 10:00 a.m.
2013 CCIW ALL-CONFERENCE SOFTBALL TEAM
| | | | | |
| --- | --- | --- | --- | --- |
| FIRST TEAM | School | Pos. | Yr. | Hometown/H.S. |
| Alyse Mikolas | Carthage | C | Jr. | Kenosha, Wis./Bradford |
| Nicole Kruckman | North Park | 1B | Fr. | Libertyville, Ill./H.S. |
| Kiersten Tinkoff | North Central | 1B | So. | Lake Barrington, Ill./Barrington |
| Bryanna Heckel | Carthage | 2B | Jr. | Kenosha, Wis./Salem-Westosha Central |
| Cora Jeffers | Millikin | SS | Sr. | Sherman, Ill./Williamsville |
| Emma Clark | Illinois Wesleyan | 3B | Sr. | Morton, Ill./H.S. |
| KRISTA WATSON | AUGUSTANA | SS | JR | COAL CITY, ILL./H.S. |
| Amanda Walker | North Central | OF | Fr. | Ottawa, Ill./H.S. |
| Audra James | Illinois Wesleyan | OF | So. | St. Joseph, Ill./St. Joseph-Ogden |
| Keri Leach | Illinois Wesleyan | OF | Sr. | Hopedale, Ill./Stanford Olympia |
| Katie Boals | Elmhurst | UT | So. | Orangeville, Ill./H.S. |
| Stacey Cladis | Wheaton | DP | Jr. | Geneva, Ill./H.S. |
| Krystina Leazer | Carthage | P | Sr. | Des Plaines, Il./Elk Grove |
| Alyssa Vorel | Illinois Wesleyan | P | Sr. | Homer Glen, Ill./Lockport |
| Vlasta Mangia | North Central | P | Jr. | Cicero, Ill./Morton |
| | | | | |
| SECOND TEAM | School | Pos. | Yr. | Hometown/H.S. |
| Lindsay Mikulecky | Elmhurst | C | Sr. | Union Grove, Wis./H.S. |
| Abby Hanson | Carthage | 1B | Jr. | Winthrop Harbor, Ill./Zion-Benton |
| Suzanne Teuben | Wheaton | 1B | Sr. | Orange, Calif./Villa Park |
| Sonya Le | North Park | 2B | Sr. | Champaign, Ill./Centennial |
| Lindsay Synek | North Park | SS | So. | Northbrook, Ill./Glenbrook North |
| Katie Morman | Carthage | SS | Jr. | Kenosha, Wis./Shoreland Lutheran |
| Vicki Pyan | Carthage | 3B | Jr. | Crystal Lake, Ill./South |
| Kayla Antle | North Central | 3B | So. | Bettendorf, Iowa/H.S. |
| Becca Thompson | Millikin | 3B | So. | Hanover Park, Ill./Schaumburg |
| Paige Massa | North Park | OF | So. | Phoenix, Ariz./Etiwanda |
| Carly Trenhaile | North Central | OF | So. | Plainfield, Ill./Central |
| CHELSEA LAVIN | AUGUSTANA | OF | SO | DOWNERS GROVE, ILL./SOUTH |
| LAURA BEHNKE | AUGUSTANA | OF | SO | ROSELLE, ILL./WHEATON-ST. FRANCIS |
| Molly McCready | Illinois Wesleyan | P | Jr. | Bloomington, Ill./Tri-Valley |
| Casey Latal | North Park | P | Sr. | Palatine, Ill./Fremd |
CCIW Pitcher of the Year: Krystina Leazer - Carthage; CCIW Player of the Year: Keri Leach - Illinois Wesleyan; CCIW Co-Coaching Staffs of the Year: Carthage & North Park; CCIW Newcomer of the Year: Amanda Walker - North Central; CCIW Softball Batting Champion: Keri Leach - Illinois Wesleyan