April 30, 2013
Burgdorff honored as "Player of the Week"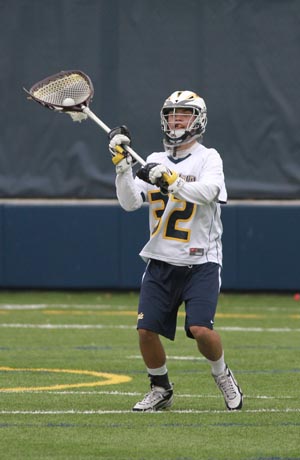 Sophomore Cody Burgdorff was recently named the Midwest Lacrosse Conference "Player of the Week" for the Vikings. Burgdorff saved 27 shots and allowed just 10 goals as Augustana went on to record three straight victories against Elmhurst, Benedictine, and Concorida (Wis.).
ROCK ISLAND, Ill. - Augustana sophomore Cody Burgdorff (Peak to Peak HS, Lafayette, Co.) has been named the "Player of the Week" in the Midwest Lacrosse Conference. The goalie finished with a total of 27 saves on just 10 goals scored against him as the Vikings rallied off three victories in a row against Elmhurst, Benedictine, and Concordia-Wisconsin.
In a 14-2 win over Elmhurst on April 21, Burgdorff was perfect allowing zero goals while saving eight shots. A few days later he helped the Vikings defeat Benedictine by saving six shots and only letting four go by him in a 16-6 triumph on April 24. The most recent victory on April 27 against Concordia secured Augustana the No. 3 seed in the MLC tournament. Burgdorff saved 13 shots while allowing six goals in the 9-6 defeat.
In the 16 games played for the Vikings, Burgdorff has started in net for 13 of them. His .622 save percentage and 6.42 goals-against average rank 26th and 30th in NCAA Division III and have helped the Vikings to an 11-5 overall record, 8-2 in conference play. His goaltending has helped Augustana achieve an excellent goals-for and goals-against ratio of 12.50 to 5.94.
As a freshman, Burgdorff started in 10 of Augustana's 14 games played. He carried a 6.27 goals against average and a .611 save percentage to lead the Vikings to an 8-6 record in their inaugural season.
Burgdorff is currently studying to be a finance major.