April 30, 2013
Shelton awarded "Player of the Week" honor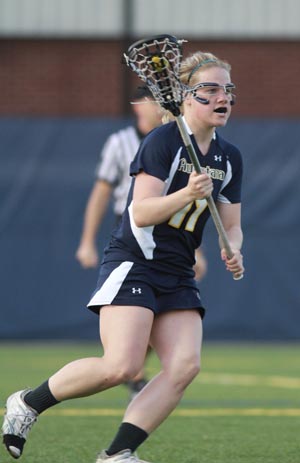 Sophomore midfielder Nattali Shelton was named the Midwest Women's Lacrosse Conference "Player of the Week" as the Vikings defeated Benedictine and Dubuque this past week. Augustana is currently riding an 11 game win streak.
ROCK ISLAND, Ill. - Augustana sophomore Nattali Shelton (Wheaton-Warrenville HS, Wheaton, Ill.) has been named the "Player of the Week" in the Midwest Women's Lacrosse Conference. Shelton played a key role defensively as the Vikings won two games against Benedictine on April 23, and Dubuque on April 27, to lock up the MWLC title.
Shelton recorded a ground ball and a caused turnover in the 23-2 victory over Benedictine. The defeat rounded out a perfect 8-0 record in conference play on the season for the Vikings. She then went on to establish a season's high seven caused turnovers and another season's best of four groundballs as Augustana took care of Dubuque 26-0. The Viking defense did not allow a shot on goal during the match.
On the season, Shelton has managed to cause 18 turnovers and hoist in 14 ground balls. The midfielder has added four goals on just seven shots in her 14 games played. Their most recent stretch of 11 consecutive victories has brought the Vikings to an overall record of 14-3.
Shelton is studying biology and pre-occupational therapy while at Augustana.