April 28, 2013
Vikings beat Loras 8-1 to move to 15-8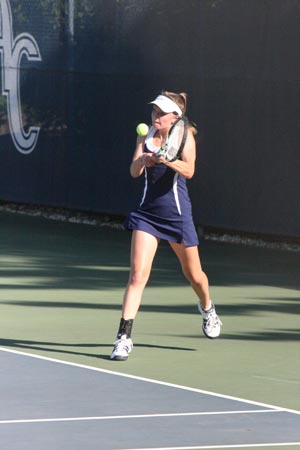 Freshman Madeline Voss picked up her first collegiate singles victory on Sunday, April 28 when she defeated Jessica Bremner of Loras 6-1; 6-1 in Dubuque, Iowa.
DUBUQUE, Iowa - Augustana wrapped up a successful regular season in 2012-13 with an impressive 8-1 women's tennis victory over Loras on Sunday, April 28 in Dubuque, Iowa. The Vikings are now 15-8 overall heading into a semi-final match in the College Conference of Illinois & Wisconsin's NCAA Qualifier on Tuesday, April 30 at home against Carthage. That match is scheduled to begin at 4:00 p.m. at the lower campus courts.

On Sunday, second year head coach Jon Miedema's team swept the doubles and then took five of the six singles matches to defeat the Duhawks for the second time this year. The two teams met back on September 3 and Augustana won 9-0.
Junior Kim Sawyer (Batavia HS, Batavia, Ill.) and freshman Aileen MacDonald (Mundelein HS, Mundelein, Ill.) defeated Elizabeth Dickhut and Est Mungai at number one doubles by a score of 8-1 and moved to 18-9 on the year. Junior Emily Kaczmarek (Glenbard South HS, Lombard, Ill.) and sophomore Miranda Pence (Oswego HS, Oswego, Ill.) took care of Rachel and Rebecca Weglarz 8-3 at number two. It was the first time this year that Kaczmarek and Pence had teamed up in doubles.
The Vikings' number three team of senior Krista Panko (Geneva HS, Geneva, Ill.) and junior Caitee Margenthaler (Moline HS, Moline, Ill.) routed Caroline Rainey and Jessica Bremner 8-0 and that was also the first time that duo played together this season.
Panko beat Mungai 6-2; 6-1 at second singles and is now 16-14 this year. MacDonald ran her record to 18-9 with a 6-2; 6-1 victory over Rainey at number three. Pence handled Rachel Weglarz 6-0; 6-0 at number four and is now 8-6 while freshman Lauren Kaczmarek (Glenbard South HS, Lombard, Ill.) evened her mark at 3-3 with a 6-0; 6-1 win over Rebecca Weglarz at number five. Freshman Madeline Voss (Lincoln-Way East HS, Frankford, Ill.) won her first ever collegiate singles match by beating Bremner 6-1; 6-1. Kaczmarek dropped a 4-6; 4-6 decision to Dickhut at number one singles for the lone Augustana defeat on the afternoon.