April 28, 2013
Augustana shuts out Knox twice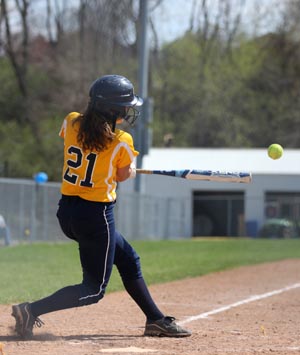 Sophomore Chelsea Lavin went four for six Sunday as Augustana swept a doubleheader from Knox 4-0 and 8-0 at Carver Field.
ROCK ISLAND, Ill. - Augustana rode a pair of shutout pitching performances to a 4-0, 8-0 sweep of Knox Sunday at Carver Field. The Vikings finish the regular season 26-12 and are still in the running for a CCIW tournament berth.

Augustana 4, Knox 0
Senior Sarah Hintz (Le Roy HS, Le Roy, Ill.) spun a one-hit gem in the opener, walking two and fanning eight.
The Vikings gave Hintz all the run support she would need with a pair of runs in the bottom of the first. Junior Jamie Rehmert (Sterling HS, Sterling, Ill.) knocked in sophomore Chelsea Lavin (Downers Grove South HS, Downers Grove, Ill.), who had reached on an error. A wild pitch and another error led the Augustana's second run, scored by pinch-runner Lisa Bartha (Glenbard South HS, Wheaton, Ill.).
The hosts added a run in the second on a single and stolen base by freshman Cheyenne Burnett (Rock Falls HS, Rock Falls, Ill.) and an RBI double by Lavin. Burnett singled and stole second again in the fourth before scoring the Vikings' final run on a Knox error.
Hintz improved to 11-6 with the win. The only hit she allowed was a Rhiannon Neuville single in the third. Lavin, Rehmert, Burnett and sophomore Jenna Teson (Jacobs HS, Algonquin, Ill.) each had a pair of hits for Augustana.
Augustana 8, Knox 0
In the nightcap, it was freshman Ashley Anderson's (Sherrard HS, Viola, Ill.) turn to shine in the circle. She allowed just a pair of Prairie Fire hits, walked one and struck out seven in firing her sixth shutout of the season. She moved to 9-4 on the year.
A Lavin single and an RBI double by Krista Watson (Coal City HS, Coal City, Ill.) got the Vikings on the board in the bottom of the first. Rehmert added and RBI single and junior Chaney Tambling (Dwight HS, Dwight, Ill.) drove in a run with a double as Augustana put up five runs in the opening frame.
Lavin led off the second with a triple to right center and scored on a sacrifice fly to right by sophomore Cassie Saufley (Normal West, Hudson, Ill.) to make it 6-0.
The Vikings ended the contest early with a pair of runs in the bottom of the sixth. Freshman Jennifer Gray (Lincoln-Way East, Mokena, Ill.) started the frame with a double to left and scored on a Saufley groundout. Sophomore Cat Dinklenburg (Antioch HS, Antioch, Ill.) singled in Bartha with the game-ender later in the inning.
Lavin and Dinklenburg each had two of Augustana's 13 hits in game two. Lavin scored twice and Saufley knocked in a pair.