April 27, 2013
Ferlmann leads Vikings to 7th-place tie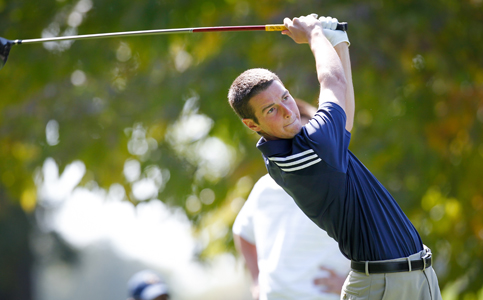 Freshman David Ferlmann shot an eighth-place 152 this weekend at the Scot-Fire Invite.
GALESBURG, Ill.-Freshman David Ferlmann (Peoria Notre Dame HS, Dunlap, Ill.) led the way for Augustana this weekend, shooting a two-round total of 152 at the Scot-Fire Invite hosted by Monmouth and Knox at Gibson Woods Golf Course and Soangetaha Country Club. Ferlmann finished in a tie for eighth place individually, while the Vikings were tied for seventh among 12 teams.

Ferlmann shot an opening round 78 and came back with a 74 on Saturday. Sophomore Jake Groselak (Lemont HS, Lemont, Ill.) finished two strokes back (79-75 - 154) of Ferlmann in a tie for 14th place.
Sophomore Max Channon (Wheaton Warrenville South HS, Wheaton, Ill.) (79-79 - 158) tied for 23rd competing as an individual for the Vikings.
Other competitors for Augustana included sophomores Grant Murphy (Dunlap HS, Peoria, Ill.), who tied for 27th (83-76 - 159), and Josh Kukla (Zion-Benton HS, Winthrop Harbor, Ill.), who tied for 48th (83-86 - 169), and junior Dave Cook (United Township HS, Silvis, Ill.) who finished in a tie for 54th (89-84 - 173).
Millikin (305-298 - 603) won the team title behind individual medalist Wes Hillen (74-69 - 143). Illinois Central (313-298 - 611) was second and Monmouth (314-301 - 615) third. Augustana (323-309 - 632) finished in a tie for seventh with a second Monmouth outfit (323-309 - 632).
Coach Paul Del Vecchio's squad, currently in seventh place after the first two rounds, will finish play at the CCIW Championships next weekend. Rounds three and four will be played at Elgin Country Club in Elgin, Illinois on Friday and Saturday, May 3 & 4.