April 27, 2013
Men's tennis beats Carthage for first time since 1999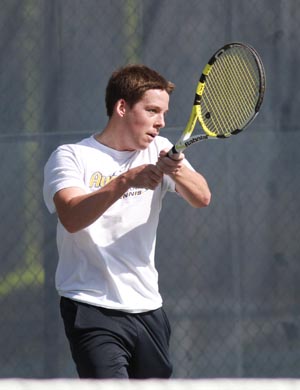 Junior Grant Wick's 4-6; 6-3; 6-3 win over Tom Klassman at number six singles clinched a 5-4 victory for the Vikings over Carthage on Saturday, April 27 in Kenosha, Wisconsin. It was the fist victory for Augustana over the Red Men in men's tennis since 1999.
KENOSHA, Wis. - Junior Grant Wick (Windsor HS, Fort Collins, Colo.) came up with a thrilling, come-from-behind victory at number six singles to clinch Augustana's 5-4 victory over Carthage on Saturday, April 27 in Kenosha, Wisconsin. That enabled the Vikings to defeat the Red Men for the first time since 1999, snapping an 18-match losing streak.

Augustana also defeated Edgewood 8-1 later in the day to give second year head coach Jon Miedema's team an 18-9 overall record. The Vikings also finished 3-2 in the College Conference of Illinois & Wisconsin to secure a third place finish.

Next on the agenda for Miedema's club will be the CCIW Tournament in Bloomington, Illinois on Friday, May 3 and Saturday, May 4.

The total of 18 victories so far this year is the fifth-highest total in school history. The school record is 22 (22-11) set in 2010, followed by 21 (21-14) in 2009. The Vikings won 20 matches (20-8) in 2008 and 19 (19-10) in 2011.

Miedema guided his team to a 16-11 mark in his first season (2011-12) and his two year record with Augustana is 34-20.

The Vikings are still playing without number one singles player Lawrence Palmer (Schiller International School, El Prat de Llobregat, Spain). Palmer injured his back earlier in the week and missed Augustana's 7-2 loss to Elmhurst on Thursday, April 25.

AUGUSTANA 5, CARTHAGE 4

Wick was the last man on the court against the Red Men and he responded with a gritty 4-6; 6-3; 6-3 win over Tom Klassman at number six singles. The triumph, which raised Wick's record to 15-8 on the year, gave the Vikings their first win over Carthage since 1999, a streak that had encompassed 18 matches in a 14-year span.

Just prior to Wick's victory, Carthage tied the match when the Red Men's Alex Boomgarden beat senior Will Palmer (Schiller International School, Leicester, England) 6-3; 3-6; 7-5.

Augustana jumped out to a 2-1 lead in doubles heading into the singles competition. Junior Colin Arnold (Sterling HS, Sterling, Ill.) and senior Jack Cullen (Edgewood HS, Madison, Wis.) won at number two by a score of 8-2 over Conor Moon and Brandon Curtis. Freshman Harald Olsson (Lidingo, Sweden) and junior Kevin Bayles (Homewood-Flossmoor HS, Flossmoor, Ill.) defeated Ryan Jump and Brian Howes 8-3 at number three.

In the singles competition Carthage won at the first three spots and Augustana took flights four through six.

Arnold beat Howes 7-5; 6-2 at number five and is now 12-5 on the year and Bayles upped his mark to 19-12 with a 6-3; 6-1 win over Juan Robles at number four.

Olsson lost to Jeff Lotz, Jr. at number one 6-1; 6-2 and junior Andy Wall (Notre Dame Academy, De Pere, Wis.) dropped a 6-2; 6-1 decision to Jump at number three.

AUGUSTANA 8, EDGEWOOD 1

Following the nail biter against Carthage, the Vikings had a relatively easy time in an 8-1 win over Edgewood. This is the second 8-1 victory for Augustana over Edgewood this year with the first coming on March 23 in Madison, Wisconsin.

Augustana swept the doubles competition and never looked back.

Cullen and Arnold moved into the number one spot and beat Patrick Lagman and Eric Gavinski 8-5 while Olsson and Bayles beat Tim Morgan and Michael Wanta 8-5. At number three Miedema inserted the freshman combination of Austin Schoeck (Rock Island Alleman HS, Rock Island, Ill.) and Patrick Lenz (Villanova Prep School, Ojai, Calif.). Schoeck and Lenz responded in a big way with an 8-1 win over Ben Pratscher and Michael Janusek.

Olsson dropped a 6-2; 6-2 decision to Lagman at number one singles but that was the only blemish in the match for the Vikings.

Wall beat Gavinski 6-3; 7-6 at number two and Bayles defeated Morgan 6-1; 6-2 at number three. Wick moved into the number four spot and he came up with a 6-1; 6-3 victory over Wanta.

Schoeck and Lenz also got the call to play singles and both showed their varsity mettle with wins. Schoeck defeated Pratscher 6-0; 6-1 at number five and Lenz took care of Janusek 6-1; 6-0 at number six.