April 27, 2013
Vikings lock up third place in MLC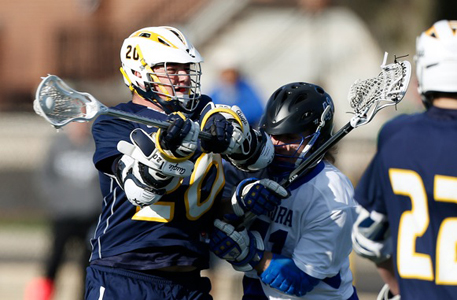 Freshman Kevin Gleason's three goals and three assists Saturday helped Augustana lock up third place in the Midwest Lacrosse Conferenec with a 9-6 win at Concordia.
MEQUON, Wis. - Freshman Kevin Gleason (Loyola Academy, Chicago, Ill.) had three goals and three assists Saturday to lead Augustana to a 9-6 win at Concordia. With the victory, Coach Kyle Hart's team locks up third place in the Midwest Lacrosse Conference and a berth in the league's postseason tournament. The Vikings improved to 11-5 overall and 8-2 in the conference, while the host Falcons fell to 9-7 and 6-4 in the MLC.
The game was tied at five-all as the clocked ticked past the 10 minute mark of the final period, but Gleason put the visitors ahead with a goal at 9:28. Gleason then assisted as sophomore Colin Haley (St. Charles East HS, St. Charles, Ill.) gave Augustana a two-goal lead with the Vikings a man up and 7:40 on the clock. Half a minute later, freshman Scott Davis (St. Thomas Aquinas HS, Overland Park, Kan.) used a Tim Fennelly (Littleton HS, Centennial, Colo.) assist to make it 8-5.
Colin Stephenson scored to get the Falcons within 8-6 with 3:51 left, but Gleason's third goal of the contest at the 2:34 mark wrapped up the day's scoring.
Concordia's Matt Larsen scored the only goal of the first quarter off a Marino Best assist. After Gleason tied it in the second, Best scored back-to-back goals to give the Falcons a 3-1 lead with 6:14 to play in the half. Augustana's Jesse Nagelberg (St. Charles East HS, St. Charles, Ill.) cut the Viking deficit to one at the break, scoring with the help of a Gleason assist at the 30-second mark.
Haley tied it at 10:27 of the third and sophomore Doug Barrie (Lake Forest HS, Lake Forest, Ill.) scored with 52 seconds left to put the Vikings up 4-3 after three.
Fennelly scored with a man advantage to start the fourth before Concordia answered with a pair of goals to tie it at five.
In addition to Gleason's big day, Haley scored twice and Fennelly finished with a goal and two assists. Sophomore Cody Burgdorff (Peak to Peak HS, Lafayette, Colo.) went the distance in goal, recording 13 saves for Augustana. He also snared a game-high 12 ground balls.
The Vikings now move on to MLC tournament play and will face either Carthage or Aurora on the road in a semifinal on Wednesday, May 1.