April 26, 2013
Pohlman's 10,000 win spurs early lead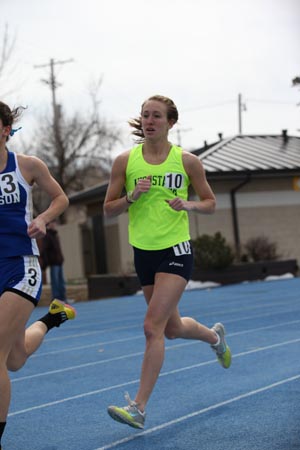 Senior Kirstillyn Pohlman won the 10,000 in the first day of competition at the Beloit Relays on Friday, April 26 to give the Vikings a narrow one-point lead heading into Saturday's events.
BELOIT, Wis. - After the first day of competition at the Beloit Relays on Friday, April 26 in Beloit, Wisconsin the Augustana women's track & field team grabbed a narrow lead in the seven-team field. The Vikings were led by the winning effort of senior Kirstillyn Pohlman (Zion-Benton HS, Winthrop Harbor, Ill.) in the 10,000 and accumulated 41 points in the five events that were contested.

Pohlman, running the first 10,000 of her collegiate track career, won with a time of 41:24.95 while junior teammate Lydia Boyle (Grayslake HS, Grayslake, Ill.) was fourth in 52:55.94. Junior Amanda Pease (United Township HS, East Moline, Ill.) placed second in the 3000 steeplechase with a clocking of 12:14.04.
The 3200 relay unit of junior Kristyn Barton (York HS, Elmhurst, Ill.), sophomore Becca Sund (Palatine HS, Palatine, Ill.), junior Kelsey Moon (Mundelein HS, Wauconda, Ill.) and senior Annie Heifner (Oregon HS, Oregon, Wis.) finished second with a time of 10:07.93.
Senior Lauren Hoffman (Wheaton North HS, Winfield, Ill.) took fourth in the javelin with a toss of 97' 1" and the 800 relay of freshman Rachel Akmakjian (Poudre HS, Fort Collins, Colo.), freshman Annie Martines (St. Charles East HS, St. Charles, Ill.), freshman Kayla Bushey (Luther North HS, Chicago, Ill.) and freshman Stephanie Sorrentino (York HS, Elmhurst, Ill.) placed fourth in 1:52.46.
Augustana, with 41 points, is just one point ahead of host Beloit (40) while Judson is third with 30 and Carroll is fourth with 20. North Park (18), St. Ambrose (15) and Michigan Tech (3) rounded out the field.