April 26, 2013
Two school records fall in day one at Drake Relays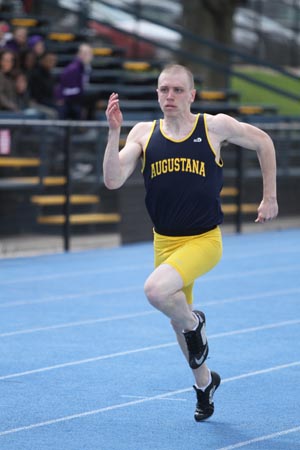 Sophomore David Devore led off both the 400 and 800 relays on Friday at Drake and both teams had tremendous success. The 400 relay is in the final with the sixth fastest time (:41.43) and the 800 relay placed fourth with a school record time of 1:27.11.
DES MOINES, Ill. - Two school records fell for the Augustana men's track & field team on Friday, April 26 at the prestigious Drake Relays in Des Moines, Iowa. The Viking sprinters took down school marks in the 800 and 1600 relay events and the 400 relay team also qualified for tomorrow's final.

The final event of the day for Augustana was the 1600 relay and the quartet of senior Greg Patton (Bloomington HS, Bloomington, Ill.), sophomore Antonio Owens (Naperville North HS, Bolingbrook, Ill.), sophomore David Voland (Batavia HS, Batavia, Ill.) and senior Alex Rindone (Marmion Academy, Geneva, Ill.) were clearly clicking on all cylinders. They brought the baton home with a time of 3:10.03, erasing the previous school record of 3:10.70 set just last year by the team of Patton, current senior Daniel Doubet (Galesburg HS, Galesburg, Ill.), Voland and Rindone. That foursome finished second in the NCAA Division III national meet with that time.
On Friday, at venerable Drake Stadium, Patton got things started with a :48.5 leadoff leg and then Owens, in his first full season of collegiate track, ripped off a scintillating :47.1 and Voland followed with a :47.3. Rindone, who just last Saturday took down Mike Meyer's 33 year-old open 400 record, powered his way to a :46.5 anchor. The final time of 3:10.03 was the second fastest in the field heading into tomorrow's final. The Vikings trail only Lincoln (Missouri), which posted a 3:09.95.
The 800 relay team of sophomore David Devore (Midland HS, Midland, Mich.), sophomore Nowlan Savage (Arapahoe HS, Highlands Ranch, Colo.), junior Jay Graffagna (Geneva HS, LaFox, Ill.) and sophomore Keith Cline (Byron HS, Byron, Ill.) recorded at time of 1:27.16. That broke the previous school record of 1:27.72 set in 2010 by Max Petersen, James Wood, Rindone and Nick Borchert. They finished fourth in the event with Mankato State winning in 1:25.04.
A 9:00 a.m. starting time is not always conducive to sprinters but the 400 relay team of Devore, Patton, Cline and Rindone shook off the early wake-up call to run :41.43 and head into tomorrow's final with the sixth fastest time. Lincoln is the standard-bearer in the event with a time of :40.72.
Senior Jonathan Smith (Moline HS, Moline, Ill.) finished 17th in the 10,000 with a time of 30:46.51 but he was the third NCAA Division III runner to finish. Smith's time is the ninth fastest time in Augustana history.
The 3200 relay of sophomore Vincenzo Dal Pozzo (Neuqua Valley HS, Naperville, Ill.), junior Chris Madison (Downers Grove South HS, Downers Grove, Ill.), freshman Cale McCormick (Mahomet-Seymour HS, Mahomet, Ill.) and junior Edgar Valle (Kaneland HS, Elburn, Ill.) placed 10th in 8:00.05.