April 25, 2013
Vikings drop 7-2 decision to Bluejays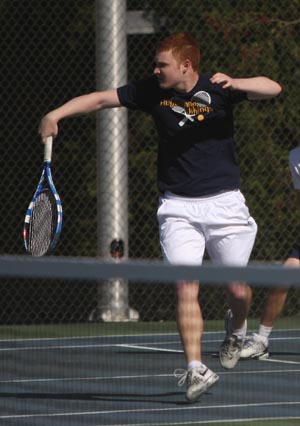 Kevin Bayles picked up the Vikings' lone singles victory on Thursday in a 7-2 loss to Elmhurst.
ROCK ISLAND, Illinois - A depleted Augustana lineup fell to Elmhurst 7-2 in College Conference of Illinois & Wisconsin men's tennis action on Thursday, April 25 at the Lower Campus Courts. The Vikings, playing without number one player Lawrence Palmer (Schiller International School, El Prat de Llobregat, Spain), had to mix things up against the Bluejays.

The Vikings fell behind 2-1 after the doubles competition and could only manage a victory from junior Kevin Bayles (Homewood Flossmoor HS, Flossmoor, Ill.) at number four in the singles competition.
Junior Colin Arnold (Sterling HS, Sterling, Ill.) and senior Jack Cullen (Edgewood HS, Madison, Wis.) moved their record to 6-2 at number two doubles with an 8-6 win over Luke Tanaka and Chris Harrison.
Bayles picked up the lone win in singles when he defeated Tanaka 2-6; 6-3; 10-7 at number four to move his record to 17-12 this year.
The Vikings lost three-setters at number two and number five singles. Senior Will Palmer (Schiller International School, Leceister, England) lost to Wil Jung 5-7; 6-3; 5-10 at number two and Arnold fell to Quinn Jennings 6-3; 3-6; 3-6 at number five.
Augustana will now face Carthage at 9:00 a.m. on Saturday, April 27 in Kenosha, Wisconsin in the CCIW finale and then Edgewood at 12:00 noon. The Vikings are 16-9 overall and 2-2 in the league.