April 26, 2013
Burns named MVP for Vikings' wrestling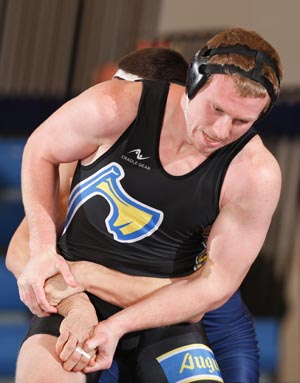 Senior Matt Burns earned All-American honors at 174 pounds and was named the Vikings' MVP after he posted 38-11 record.
Augustana wrestling head coach Eric Juergens has announced his 2012-13 team award winners. Senior All-American Matt Burns (Naperville Central HS, Naperville, Ill.) was named the Vikings' Most Valuable Performer. Junior Jake Scholten (Rockford HS, Grandville, Mich.) won the Sacrifice Award. Sophomore Connor Cummings (Downers Grove North HS, Woodridge, Ill.) was named the team's Hardest Worker after being named co-Most Improved a year ago. Freshman Jimmy Panozzo (Carl Sandburg HS, Orland Park, Ill.) earned the Most Improved honor this year.

Burns placed second in the College Conference of Illinois and Wisconsin at 174 pounds and went on to finish third at the Central Regional in Dubuque, Iowa, which earned him a trip to the national meet. At the NCAA Division III National Tournament in Cedar Rapids, Iowa, Burns placed seventh in the 174 pound weight class to earn All-American status.
This is the second straight season Augustana has produced an All-American in the 174 pound class, as Jordan Richardson (Grandville HS, Wyoming, Mich.) did so a year ago. Burns won individual titles at the Knox Open and Central Invitational. He finished the year with a 38-11 record, leading the team in wins and tying him for 20th on Augustana's all-time single season wins list.
Scholten, who won the 2011 conference championship at 125 pounds and won the team's Most Valuable Performer honor that year, earned the Sacrifice Award this past season. He finished the season with the second most wins on the team, compiling a record of 36-9. He won individual titles at the Knox Open and Central Invitational. He was named the CCIW "Wrestler of the Week" on December 18.
Cummings finished third in the CCIW in the 165 pound weight class. His season record was 11-19. Panozzo put together an impressive freshman campaign. He compiled a 27-15 record, wrestling at either the 125 or 133 pound weight class.
- Story written by student assistant Paul Hurd
2012-13 AUGUSTANA WRESTLING LETTERWINNERS
| | | | |
| --- | --- | --- | --- |
| NAME | WEIGHT | YR | HOMETOWN (HIGH SCHOOL) |
| Khaled Almousa* | 157 | Fr | Burbanks, Ill./Reavis |
| Alexander Bowers** | 157 | So | Noblesville, Ind./HS |
| Matthew Burns**** | 174 | Sr | Naperville, Ill./Central |
| Connor Cummings** | 184 | So | Woodridge, Ill./Downers Grove North |
| Ben Deig* | 149/157 | Fr | Bartonville, Ill./Limestone |
| Hunter Feraco**** | 197 | Sr | Battle Creek, Mich./Gull Lake |
| Abraham Duran*** | HWT | Jr | Aurora, Ill./East Aurora |
| Seth Hardcastle* | 157 | Fr | Centennial, Colo./Arapahoe |
| Cody Heche**** | 174 | Sr | Cary, Ill./Cary-Grove |
| Frank Hollo* | 197 | Fr | Litchfield, Ill./HS |
| Ian Knepshield**** | 184 | Sr | Ford City, Pa./Shady Side |
| Jake Melik* | 197 | Fr | Bettendorf, Iowa/Pleasant Valley |
| Gary Miller** | 174 | So | Littleton, Colo./Columbine |
| Steve Monaco** | 197 | So | Hickory Hills, Ill./Stagg |
| Dan Murray* | 174 | Fr | Chicago, Ill./Lane Tech |
| Mitch Musgrove*** | 149 | Jr | Andover, Ill./Orion |
| Austin Nussbaum* | 125 | Fr | Sturgis, Mich./HS |
| Jimmy Panozzo* | 133 | Fr | Orland Park, Ill./Carl Sandburg |
| Walter Piech** | 149 | So | Mokena, Ill./Lincoln-Way East |
| Matthew Regnier**** | 197 | Sr | Riverside, Ill./Riverside-Brookfield |
| Thomas Reyhons* | 165 | So | Davenport, Iowa/Assumption |
| Jordan Richardson** | 184 | Jr | Wyoming, Mich./Grandville |
| Hector Ruiz** | 141 | So | Aurora, Ill./East |
| Isaiah Schaub* | 141 | Fr. | Traverse City, Ill./St. Francis |
| Jake Scholten** | 125 | Jr | Grandville, Mich./Rockford |
| John Schraidt** | HWT | So | Riverside, Ill./Riverside-Brookfield |
| John Seaman** | HWT | So | Munster, Ind./HS |
| Kadmiel Smith* | 141 | Fr | Wilton, Iowa/Wilton |
| Kevin Sundberg** | 157 | So | Paw Paw, Mich./HS |
| David Tessiatore** | 157/149 | So | Downers Grove, Ill./North |
| Eric Timko** | 149 | So | Geneva, Ill./Community |
| Cody Weitzel* | 133 | Fr | Engelwood, Colo./Valor Christian |
| Torey Welch** | 157 | So | Littleton, Col./Valor Christian |
| Seth Whan** | 174 | So | Viola, Ill./Sherrard |
| Zackary Wheeler** | 141 | So | Marseilles, Ill./Seneca |