April 24, 2013
Vikings pick up road win at Benedictine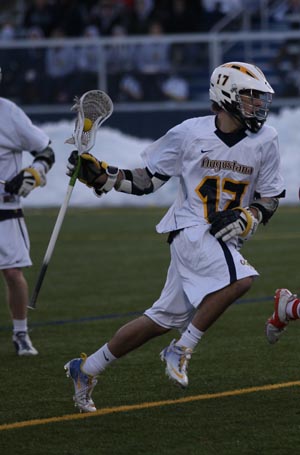 Tim Fennelly's four goals Wednesday night helped Augustana to a 16-6 win at Benedictine.
LISLE, Ill.-Sophomores Tim Fennelly (Littleton HS, Centennial, Colo.) and Jesse Nagelberg (St. Charles East HS, St. Charles, Ill.) each scored four goals Wednesday to lead Augustana to a 16-6 men's lacrosse win at Benedictine. The Vikings improve to 10-5 overall and 7-2 in the Midwest Lacrosse Conference and are in sole possession of third place in the league with one game to play. The Eagles fall to 6-9 overall and 4-5 in the conference.

After Nagelberg scored an unassisted goal to put the visitor's up 1-0, Benedictine's Tyler Buschow and Andrew Zmijewski both scored off of Zachary MacLachlan assists to give the Eagles their only lead of the night at 2-1 with 6:21 remaining in the first quarter. Fennelly's first goal, off a Kevin Gleason (Loyola Academy, Chicago, Ill.) assist and with Augustana a man up, tied it at the 5:00 minute mark and Vincent Giglierano (Archbishop Mitty HS, San Jose, Calif.) used a Gleason feed to put Augustana on top with 1:39 left. Benedictine scored a minute later and it was 4-3 Vikings after one.
Augustana broke the game open in the second quarter, scoring seven of eight goals in the period. Nagelberg and Fennelly each scored twice and freshmen Gleason and Scott Davis (St. Thomas Aquinas HS, Overland Park, Kan.) and sophomore Chris Hager (Exeter Academy, Newfields, N.H.) once each. Sophomore Colin Haley (St. Charles East HS, St. Charles, Ill.) picked up a pair of assists in the period as well.
The Vikings extended the lead to 16-4 after three periods, before the Eagles scored the only two goals in the fourth.
In addition to Fennelly and Nagelberg, multiple goal scorers for Augustana included Gleason, with three, and Hager, with two. Gleason, Giglierano and Haley had a pair of assists apiece. Sophomore Cody Burgdorff (Peak to Peak HS, Lafayette, Colo.) went almost 55 minutes in goal and allowed four goals while making six saves. Haley, Fennelly and sophomore Evan Chikeles (Hoffman Estates HS, Hoffman Estates, Ill.) led the Vikings in ground balls with seven, five and four, respectively.
On Saturday, April 27, Coach Kyle Hart's squad will attempt to clinch third place outright and an MLC tournament bid with a win at Concordia. Opening faceoff in Mequon, Wisconsin is scheduled for 1:00 p.m.