April 25, 2013
Vikings sweep at Dubuque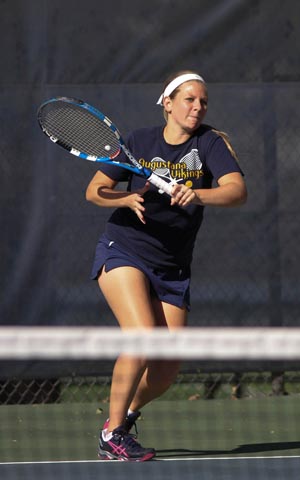 Augustana senior Meghan Wethington walked away with two victories on Tuesday against Dubuque as the Vikings went on to win 8-1. Her 6-2; 6-2 singles win and 8-1 doubles win summed up the Vikings' day on the courts.
DUBUQUE, Iowa - After back to back losses in women's tennis, the Augustana Vikings bounced back nicely by traveling to Dubuque and handling the Spartans in an 8-1 contest. The Vikings were able to come away with all six victories at the singles competition, while adding two more at doubles. The win improved head coach Jon Miedema's record to 14-8 on the season.

Victories were in abundance for the Vikings on Tuesday. Senior Kim Sawyer (Batavia HS, Batavia, Ill.) defeated Nichole Schmaltz at number one singles in a 6-0; 6-3 fashion. The victory improved Sawyer's record to an impressive 25-3 on the season as she rides a six match win streak.
Junior Emily Kaczmarek (Glenbard South HS, Lombard, Ill.) outlasted Stephanie LoCasto 6-0; 6-2 at number two singles while freshman Aileen MacDonald (Mundelein HS, Mundelein, Ill.) walked away with a 6-0; 6-1 win over Ashley Schlueter at number three singles. MacDonald is 17-9 on the year to give her the second most wins on the team next to Sawyer. Earlier in the day MacDonald was named the Player of the Week in the College Conference of Illinois & Wisconsin.
Also adding victories for the Vikings were Augustana's Miranda Pence (Oswego HS, Oswego, Ill.), Meghan Wethington (Geneseo HS, Geneseo, Ill.) and Lauren Kaczmarek (Glenbard South HS, Lombard, Ill.). Pence was triumphant over Alexandra Dixon at number four singles winning in a 6-1; 6-0 manner and at number five singles Wethington put together a 6-2; 6-2 victory over Aoi Karino. At number six singles, Kaczmarek's 6-2; 6-3 set wins was good enough to beat Janine Wegner to round out the Vikings sweep.
Sawyer and MacDonald teamed up and improved their overall doubles competition record to 17-9 winning 8-3 in their contest at number one doubles. Pence and Wethington's 8-1 victory over LoCasto and Schlueter gave the Vikings their eighth win on the day. Kaczmarek and junior Caitee Margenthaler (Moline HS, Moline, Ill.) fell in a hotly contested 9-8 match at number three doubles.
Augustana will next travel to Dubuque, Iowa to face Loras on Sunday, April 28 at 9:00 a.m.