April 24, 2013
Augustana wins wild one over Cornell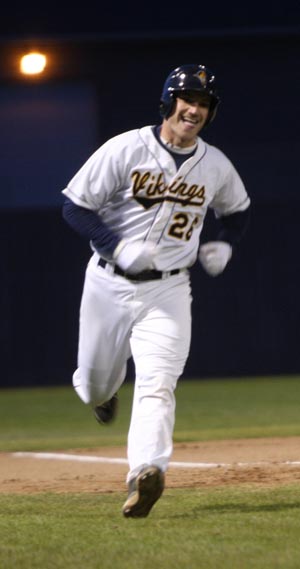 Senior David Balzer had three hits, including a home run, Wednesday as Augustana defeated Cornell 19-10 at Swanson Stadium/Brunner Field.
MOLINE, Ill.-After four innings at Swanson Stadium/Brunner Field Wednesday, the scoreboard read Augustana 15, Cornell 10. However, freshman left-hander Chris Sauer (Rock Canyon HS, Littleton, Colo.) came out of the pen in his first collegiate appearance and went six shutout innings as the Vikings pulled away for a 19-10 win. Senior David Balzer (Morris HS, Morris, Ill.) was one of many Augustana hitters to have a big night, with three hits including a home run. Coach Greg Wallace's club improves to 24-6 this season. The Rams fall to 8-19.

The scoring started right away with Cornell knocking out Viking starter Kevin Hodgman (Neuqua Valley HS, Naperville, Ill.) with four runs in the first inning. Kevin Stahmer's two-run double to left center was the big hit. The hosts cut the lead in half in the bottom of the frame. Senior Kurt Schmidt (Grayslake Central HS, Grayslake, Ill.) drove in Jacob Van Duyne (Wilmington HS, Wilmington, Ill.) with an RBI double and then scored on the front end of a double steal with Grant Stewart (Sterling HS, Sterling, Ill.).
Each team added a run in the second. Augustana's came on a Danny Fifer (Lincoln-Way West HS, New Lenox, Ill.) single that plated Van Duyne.
Viking reliever Eric Egan (Oswego East HS, Aurora), who came on to start the second inning, finally put the first goose egg on the board in the top of the third. Augustana then exploded for nine runs in the bottom. Balzer led off with a walk and scored on Mark VanNatta's (Alleman HS, Moline, Ill.) triple to right center. VanNatta came home on a wild pitch to tie it 5-5. Nick Tenerelli scored the go-ahead run when Van Duyne reached on an infield error and Schmidt drew a bases-loaded walk to force in another. Stewart followed with a three-run triple to right center and Balzer capped the inning with a two-run blast over the left field fence.
The Rams wouldn't go away, cutting the Augustana lead to 12-10 with five runs in the fourth. Zach Rogers and Beriah Quick each had two-run singles in the inning.
The Vikings answered with three runs in the bottom of the fourth and four more in the sixth. Van Duyne scored his fourth run in as many innings, coming home on a Stewart two-run single. Tenerelli's two-run single was the big hit in the sixth.
Meanwhile Sauer was shutting down the potent Ram attack to earn his first win. He came on in relief of Jamie Rammel (McHenry HS, McHenry, Ill.) with the bases loaded and no one out in the fourth. Quick, the first batter he faced, touched him for his two-run single, but he got out of further trouble. Over his final five innings, he allowed just two hits, one an infield hit, and fanned eight.
Stewart, Balzer, Jeremy Juhl (Glenbard East HS, Lombard, Ill.) and Kyle Lenihan (Romeoville HS, Romeoville, Ill.) each had three hits, while Van Duyne and Fifer had two apiece. Van Duyne scored four runs and Stewart drove in five. Tenerelli scored twice, drove in a pair and picked two Rams off first from behind the plate.
The Vikings face a key series with Wheaton this weekend. The three-game set starts with a single game Friday, April 26 in Wheaton, Illinois. First pitch is scheduled for 6:00 p.m.