April 24, 2013
MacDonald named "Player of the Week" in CCIW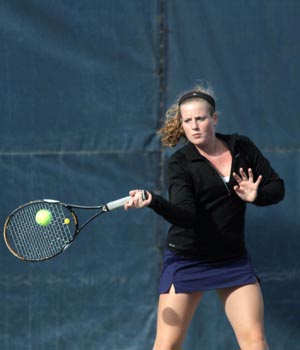 Freshman Aileen MacDonald was named the "Player of the Week" in the College Conference of Illinois & Wisconsin last week after going 2-0 in singles and picking up a doubles victory against Luther.
Augustana freshman Aileen MacDonald (Mundelein HS, Mundelein, Ill.) has been selected as the "Player of the Week" in the College Conference of Illinois & Wisconsin in women's tennis, it was announced today. MacDonald earned the honor after going 2-0 against Luther in a match that the Vikings dropped 3-6.

Playing from the number four singles spot, MacDonald defeated Luther's Katy Lidstrom in straight sets 6-3; 6-3. She then teamed up with junior Kim Sawyer (Batavia HS, Batavia, Ill.) at number one doubles to beat Luther's Elise Allen and Maggie Helms 8-5.
MacDonald is 16-9 on the season in singles play, going 9-4 from the number four position and 3-3 from the number three position. She has also compiled and impressive 5-1 record in CCIW play. Playing from the number one doubles spot with her partner Kim Sawyer, MacDonald has also put together a 16-9 record. This tandem has been excellent in CCIW play on their way to a 4-2 conference record.
This is Aileen MacDonald's first time to receive the CCIW "Player of the Week Award". MacDonald is the second Viking to win the award this season along with her doubles partner Kim Sawyer, who has won the award three times this season. A music and business major, MacDonald is the daughter of Mari and Paul MacDonald of Mundelein, Illinois.