April 23, 2013
Vikings clinch MWLC title with win at Benedictine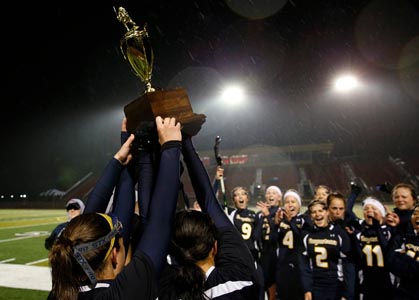 Members of the Vikings hoist the 2013 Midwest Women's Lacrosse Conference championship trophy in the air after beating Benedictine 23-2 on Tuesday, April 23 in Lisle, Illinois. Augustana finished the season with a perfect 8-0 league mark.
LISLE, Ill. - A persistent rain did not slow the Augustana women's lacrosse team in its quest to clinch the Midwest Women's Lacrosse Conference title on Tuesday, April 23 against Benedictine in Lisle, Illinois. The Vikings scored the first 16 goals of the game en route to a 23-2 win that sealed the league title in their first season of competition in the MWLC.

Second year head coach Sara Tisdale's club is now 13-3 overall and a perfect 8-0 in the MWLC with one regular season contest left, a non-conference affair at home against Dubuque on Saturday, April 27 at 2:00 p.m. Augustana will host the MWLC tournament on May 3-4 at Thorson-Lucken Field.
The Vikings wasted no time on Tuesday night despite playing in cold, windy and rainy conditions. Freshman Emily Handrahan (Lake Zurich HS, Hawthorne Woods, Ill.) opened the scoring with an unassisted goal less than two minutes (28:36) into the game.
It over five minutes for the Vikings to score again but a goal by sophomore Kate Zisser (Kirkwood HS, St. Louis, Mo.) at 23:19 off an assist from freshman Kaylee Nolan (Carl Sandburg HS, Orland Park, Ill.) opened the floodgates. Sophomore Christina Letmanski (Glenbard West HS, Wheaton, Ill.) scored at 22:43 and then Nolan hit the nets at 21:04 and 20:38 to make it 5-0. Assists on those goals went to freshman Kendall Maduro (Neuqua Valley HS, Naperville, Ill.) and Letmanski respectively.
Sophomore Hilary Kargl (Sacred Heart Academy, Louisville, Kent.) scored at 17:38 with freshman Shelby Cosman (Marian Catholic HS, St. John, Ind.) getting the assist. Cosman then scored at 15:38 with Kargl collecting the assist. Freshman Quinn Foley (Carl Sandburg HS, Orland Park, Ill.) was unassisted on the eighth goal at 12:21 and sophomore Emily Pavlik (Lyons Township HS, LaGrange, Ill.) made it 9-0 at 10:01 with Letmanski assisting. Sophomore Kelly Stelzer (Wheaton-Warrenville South HS, Wheaton, Ill.) went unassisted at 9:44 to put the score at 10-0 and start the running clock for the rest of the game.
Kargl led the Vikings in scoring with four goals while freshman Rebecca Pollard (Westfield HS, Carmel, Ind.) had three. Letmanski, Handrahan, Maduro, Nolan, Cosman and Foley all had two goals apiece.
Sophomore Sarah Osier (Naperville Central HS, Naperville, Ill.) worked the first 34:25 in goal and picked up the victory while freshman Jenna Hofmann (Columbine HS, Littleton, Colo.) came on and played the final 25:35. Augustana has now won 10 games in a row since a 16-11 defeat at the hands of Adrian on March 16.