New press box name to honor Dave Wrath
April  24, 2013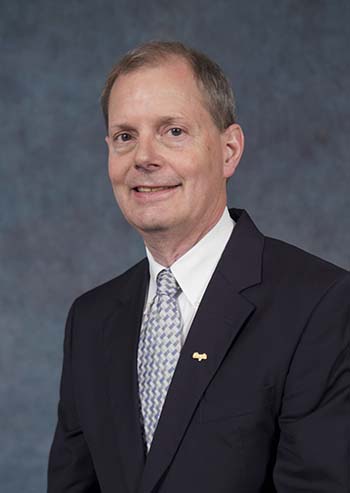 Dave Wrath
As the structure of the Austin E. Knowlton Outdoor Athletic Complex starts to take shape along Fifth Avenue in Rock Island, Augustana College announces that one component—a new press box—will be named for David W. Wrath '80.
Wrath has served as Augustana's sports information director since February 1981, and currently he is the Vikings' associate director of athletics for media and alumni relations.
"I am delighted that the new press box at the Knowlton Outdoor Athletic Complex will be named to honor Dave Wrath," said Michael Zapolski, director of athletics. "Dave has a significant record of distinguished service to Augustana, and his efforts to publicize our teams, coaches and student-athletes are legendary in media circles."
Zaplolski added, "Dave has been the steward of the college's long-time national success in the Academic All-American program and the 'Tribe of Vikings' Hall of Fame." Nationally, Augustana College is ranked sixth among all divisions for number of Academic All-Americans, and second in Division III.
President of the College Steven Bahls said, "Many alumni of the college have told me how impressive they find Dave's memory when it comes to his recollection of details about their achievements as student athletes at Augustana. This extraordinary recall grows out of his care and concern for these students as individuals. Mix this with Dave's passion for our students' personal development, and you start to see how invaluable Dave Wrath has been at Augustana."
President Bahls said, "We are grateful to have this opportunity to celebrate his incredible contributions and the impact they have had on generations of Augustana students."
As an Augustana student-athlete, Wrath helped the Vikings earn a fourth-place national finish at the 1979 NCAA Division III Cross Country Championships and the 1980 NCAA Division III Track and Field Championships.
He worked briefly for two newspapers before returning to Rock Island in February 1981. Over the course of more than three decades, Wrath has archived and publicized Augustana's athletic success—including four NCAA Division III national football championship teams, numerous NCAA Division III individual champions, along with a multitude of College Conference of Illinois and Wisconsin championship teams and All-American performers.
Wrath is a longtime member of the College Sports Information Directors of America (CoSIDA), and he has received several awards from CoSIDA, including being named to the CoSIDA Hall of Fame in 2003.
Wrath said, "This is an honor that deeply touches me. It brings back so many great memories of that narrow press box that was too cold, too hot and too crowded, but we made it our home for the 32 years I have been fortunate to work as the sports information director at Augustana."
Wrath continued, "So many media representatives, fellow sports information directors, and, of course, a great student workforce helped to provide a big-time service atmosphere without the amenities that we will now have. I have been truly blessed throughout the time that I have been able to serve Augustana and this is a moment that I will cherish."
When complete, the press box will be set atop the new Lindberg Stadium on the north side of the Knowlton Complex (currently the location of the visitors' stands.) The stadium will have a three-story grandstand with 1,800 seats. Adjacent to the stands will be the Ken Anderson Academic All-America Club, an indoor gathering area with televisions, room to socialize during Viking contests, innovative concessions and picture-window views of the game-day action.
Plans for the complex also include the Players' Plaza, a gathering place for fans before and after games, and the Viking Patio and Overlook, an area where fans can gather to watch the game from the northwest corner of the field between the Academic All-America Club and Lindberg Stadium. It will include a concession area and a striking view of Augustana's signature academic building, Old Main.
The Dave Wrath Press Box and the entire complex is on target for completion by Aug. 15, 2013. The first football game in the complex is scheduled for Sept. 7, at 6 p.m., when the Vikings take on Mount St. Joseph.
Sam Schlouch
Senior Communication Director
(309) 794-7833
samschlouch@augustana.edu