April 23, 2013
Jones named Runner of Week after record setting 1500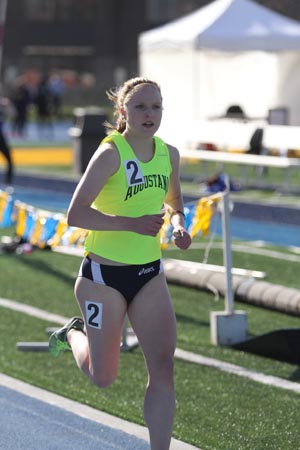 Senior Sarahbeth Jones was named "Runner of the Week" in the CCIW after she shattered the Augustana school record in the 1500 at the Augustana Invitational on Saturday, April 20.
Senior Sarahbeth Jones (Warren Township HS, Wadsworth, Ill.) has been named the "Athlete of the Week" for women's track & field in the College Conference of Illinois & Wisconsin. Jones was honored after her performance at the Augustana Invitational in Rock Island, Illinois on Saturday, April 20.

Jones set a new school record in the 1500 in route to a second-place finish in the event. Her time of 4:31.29 betters the previous school record of 4:35.01 set by former Viking All-American Kristy Windy in 1998. Jones also finished second in the 800 with a time of 2:15.76.
This is Jones' second school record of the outdoor season. She broke her own school record in the 3000 earlier this year with a time of 9:53.85. She has posted the Vikings top times of the season in the 800 (2:15.76), 1500 (4:31.29), 3000 (9:53.85), and 5000 (17.27.69). She has also been a member of 3200 meter relay (9:37.23) and 4x1600 meter relay (21:07.38) teams that have posted Augustana's best times this season.
Jones is currently ranked in the top 25 in NCAA Division III in three events. She has the 25th fastest time in the country in the 800, the eighth fastest time in the 1500, and the 17th fastest time in the 5000.
The daughter of Lewis and Elizabeth Jones of Glen Allen, Virginia, Sarahbeth is and English and communications major.
- Story written by student assistant Paul Hurd