April 23, 2013
Kunz and Vandersee win Merle Chapman Awards in CCIW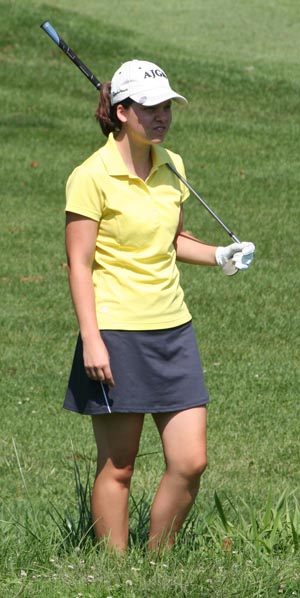 Senior Megan Vandersee was named the female winner of the Merle Chapman Award in the CCIW for the 2012-13 school year. Fellow senior Brandon Kunz was the male winner.
A pair of Augustana seniors were selected as the recipients of the Merle Chapman Leadership Award in the College Conference of Illinois & Wisconsin (CCIW) for the 2012-13 school year. Megan Vandersee (Sterling HS, Sterling, Ill.) and Brandon Kunz (Lake Zurich HS, Lake Zurich, Ill.) were the winners of the honor, which was presented to them at the CCIW year-end Student Athletic Advisory Committee (S.A.A.C.) luncheon in Naperville, Illinois.

The Merle Chapman Leadership Award, which began during the 2002-03 academic year, is named after the longtime football coach/director of athletics at Millikin University who served as the second commissioner of the CCIW. Chapman was the CCIW commissioner from 1997 through 2002. The award identifies the student-athletes from the eight member institutions who best exemplify the traits that Chapman displayed and encouraged during his three-plus decades of service as teacher, coach and mentor.
His influence among athletes, coaches and administrators in the CCIW is still being felt to this day. Those traits include loyalty, enthusiasm, and commitment to academic, athletic and personal excellence, leadership and sportsmanship.
Vandersee was a four year member of the Vikings' women's golf team. She currently leads the Vikings in low average this year and she was also the team leader as a sophomore. During her senior season she finished ninth at the CCIW championship and helped the Vikings to a third place finish in the team standings. This year she has recorded seven top-10 finishes in invitationals including four in the top five and two individual wins. She was the team's Most Valuable Freshman in 2009-10 and was the Augustana MVP in 2010-11 as a sophomore. She won the Fighting Bee Classic as a sophomore and was second at the Fighting Scots Invitational as a junior.
She has been named as a National Golf Coaches of America All-America Scholar for three years and has been nominated as NCAA "Woman of the Year". She served as president of S.A.A.C. this year and was instrumental in leading Augustana athletes to the Polar Plunge as a fundraiser for Special Olympics. Vandersee serves on the president's advisory council and is vice-president of ClubEd, which is for Augustana students majoring in education. She has been a community advisor in the residence halls and an active member of Athletes Giving Back. The daughter of Doug and Jo Ellen Vandersee of Sterling, Megan will graduate in May with a degree in chemistry and education.
Kunz was a four year letter winner for the Augustana men's basketball team. He served as team captain in 2012-13 on a team that was loaded with freshmen and sophomores. He was the second leading scorer (11.0 ppg) and top rebounder (7.0 rpg) for a Viking squad that went 19-8 and made the CCIW tournament for a record eighth straight year. He was a second team all-conference selection and was voted MVP, Best Defender and Best Rebounder by his teammates.
During his career Kunz appeared in 105 games, seventh on the school's all-time list. He ended up eighth in career field goal percentage (.562) and 19th all-time in rebounds with 493. His blocked shot total of 41 is tied for 12th highest.
Kunz is a member of the Fellowship of Christian Athletes, the Augustana Community Healthcare Outreach Organization and has volunteered around the Quad Cities at various YMCAs.
He is the son of Scott and Tammy Kunz of Lake Zurich, Illinois and he will graduate with a degree in biology and pre-medicine.