April 23, 2013
Tisdale and six players honored by MWLC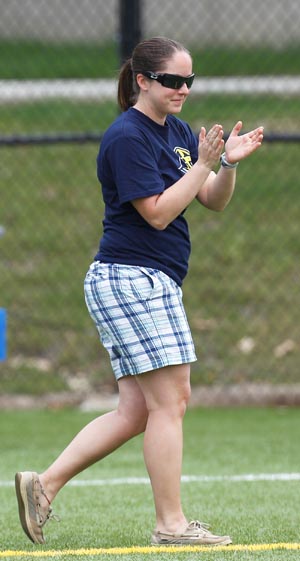 Second-year Augustana head coach Sara Tisdale was named the "Coach of the Year" in the Midwest Women's Lacrosse Conference after leading the Vikings to the league title. Six Augustana players made the all-conference team, including freshman Kendall Maduro who was named "Rookie of the Year".
Led by Coach of the Year Sara Tisdale and Rookie of the Year Kendall Maduro (Neuqua Valley HS, Naperville, Ill.), Augustana placed a total of six players on this year's All-Midwest Women's Lacrosse Conference team, three each on the first and second units. The Vikings are 12-3 this season and at 7-0 in the conference, have clinched no less than a share of the league title.

Maduro, a freshman, was joined on the first team by sophomores Christina Letmanksi (Glenbard West HS, Wheaton, Ill.) and Emily Pavlik (Lyons Township HS, LaGrange, Ill.). Maduro was selected as a midfielder, Letmanksi on attack and Pavlik as a defender. Sophomore defender Anna Kyllo (St. Croix Lutheran HS, Bloomington, Minn.), freshman attacker Emily Handrahan (Lake Zurich HS, Hawthorn Woods, Ill.) and freshman midfielder Kaylee Nolan (Sandburg HS, Orland Park, Ill.) were second team selections.
Maduro leads Augustana with 25 caused turnovers and is second with 30 ground balls and 24 draw controls. She has 20 goals and 11 assists this year. In MWLC play, she's third in the league with an average of 2.29 caused turnovers per game and leads the conference with three game-winning goals, including one with 8.9 seconds left which gave the Vikings a 9-8 win over North Central. Letmanksi leads Augustana in goals (41) and points (62) and ranks second in assists (21). She's fourth in the MWLC in goals per game (2.86), second in assists (1.71) and third in points (4.57). Pavlik leads a Viking defense that has given up an average of just 4.71 goals per game in MWLC play. On the year, she has 29 ground balls (second on the team), 20 draw controls (fourth) and 18 caused turnovers (fourth).
Handrahan is Augustana's second-leading goal scorer with 26 and ranks third on the team with 19 assists and 45 points. She is sixth in the MWLC in both assists (1.14 per game) and points (3.00). Nolan leads the Vikings with 61 draw controls and 36 ground balls and ranks fourth in the conference in draw controls (3.29 per game). She has 14 goals and four assists this season. Kyllo has 15 ground balls and 13 caused turnovers on the year.
Tisdale, Augustana's first-ever head coach, has led the Vikings to 27 wins in the program's first 33 games, a winning percentage of .818.
2013 All-MWLC Team
| | | | | |
| --- | --- | --- | --- | --- |
| FIRST TEAM | School | Pos. | Yr. | Hometown/H.S. |
| Ali Gorman | Carthage | GK | Jr. | Chesterfield, Mo./Parkway Central |
| Lauren Chatham | Carthage | A | Jr. | Hartland, Wis./Arrowhead |
| Danielle Fiala | North Central | A | Sr. | Naperville, Ill./North |
| CHRISTINA LETMANSKI | AUGUSTANA | A | SO | WHEATON, ILL./GLENBARD WEST |
| Rachael Houp | North Central | D | Jr. | Inverness, Ill./Palatine |
| Oivia Nino | Carthage | D | Sr. | Pleasanton, Calif./Foothill |
| EMILY PAVLIK | AUGUSTANA | D | SO | LA GRANGE, ILL./LYONS TOWNSHIP |
| Stephanie Spencer | Carthage | D | So. | Verona, Wis./H.S. |
| Gina Fisher | North Central | MF | Fr. | St. Louis, Mo./Ursuline Academy |
| Sara Fithian | Beloit | MF | Fr. | Plantation, Fla./South Plantation |
| KENDALL MADURO | AUGUSTANA | MF | FR | NAPERVILLE, ILL./NEUQUA VALLEY |
| Andrea Wambaugh | Carthage | MF | Fr. | Louisville, Ky./Kentucky Country Day |
| | | | | |
| SECOND TEAM | School | Pos. | Yr. | Hometown/H.S. |
| Paige Apel | Mount St. Joseph | GK | Sr. | Cincinnati, Ohio/Seton |
| Chrissy O'Hara | Mount St. Joseph | A | Jr. | Cincinnati, Ohio/Mercy |
| EMILY HANDRAHAN | AUGUSTANA | A | FR | HAWTHORN WOODS, ILL./LAKE ZURICH |
| Jacqui Morgan | North Central | A | Sr. | Afton, Minn./Stillwater Area |
| Sydney Whitaker | Carthage | A | Jr. | Bainbridge, Wash./H.S. |
| Ellie Daniels | Beloit | D | Sr. | Portland, Ore./St. Mary's Academy |
| ANNA KYLLO | AUGUSTANA | D | SO | BLOOMINGTON, MINN./ST. CROIX LUTHERAN |
| Erica Walsh | Mount St. Joseph | D | Fr. | Louisville, Ky./Sacred Heart |
| Morgan Weinstock | Carthage | D | Sr. | Naperville, Ill./Neuqua Valley |
| Emily Heckendorf | Concordia (Wis.) | MF | So. | Merrill, Wis./H.S. |
| KAYLEE NOLAN | AUGUSTANA | MF | FR | ORLAND PARK, ILL./CARL SANDBURG |
| Claire Norfleet | North Central | MF | Fr. | Ellisville, Mo./Lafayette |
| | | | | |
MWLC COACH OF THE YEAR SARA TISDALE - AUGUSTANA
MWLC Offensive Player of the Year Lauren Chatham - Carthage
MWLC Defensive Player of the Year Gina Fisher - North Central
MWLC ROOKIE OF THE YEAR KENDALL MADURO - AUGUSTANA