April 21, 2013
Vikings fall at Luther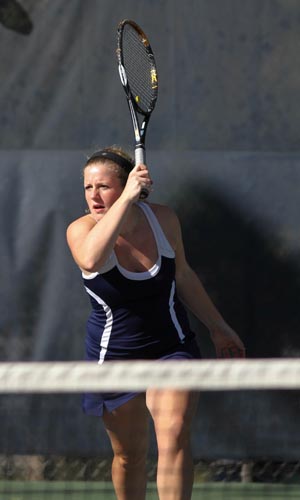 Freshman Aileen MacDonald won at number four singles and teamed with junior Kim Sawyer for a victory at number one doubles in Augustana's 6-3 loss to Luther on Sunday, April 21 in Winona, Minnesota.
WINONA, Minn. - Augustana dropped a 6-3 non-conference women's tennis match to Luther on Sunday, April 21 in Winona, Minnesota. The Vikings fall to 13-8 overall with the loss and they have four dual meets left in the spring season and then will participate in the College Conference of Illinois & Wisconsin automatic qualifier on May 3-4 in Bloomington, Illinois.

On Sunday, junior Kim Sawyer (Batavia HS, Batavia, Ill.) continued her fine play as she won at number one singles over Elise Allen of Luther by a score of 6-4; 6-3. Sawyer is now 24-3 on the season with all of her matches coming at number one.
Freshman Aileen MacDonald (Mundelein HS, Mundelein, Ill.) picked up a win at number four singles when she defeated Katy Lindstrom 6-3; 6-3. MacDonald is now 16-9 on the year. Sawyer and MacDonald then teamed at number one doubles to beat Allen and Maggie Helms by a score of 8-5. Sawyer and MacDonald are now 16-9 in doubles this year.
Augustana's next match will be April 24 at the University of Dubuque at 4:00 p.m.