April 21, 2013
Augustana defeats Elmhurst 14-2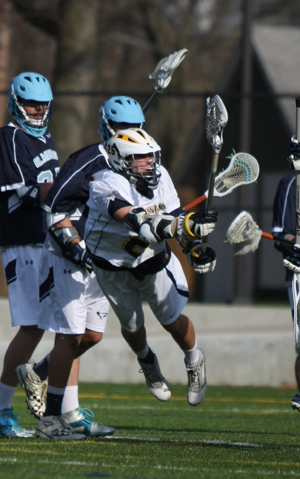 Freshman Scott Davis had four goals Sunday as Augustana defeated Elmhurst 14-2 at Thorson-Lucken Field.
ROCK ISLAND, Ill.-Augustana kept Elmhurst off the scoreboard for more than 57 minutes Sunday, defeating the Bluejays 14-2 at Thorson-Lucken Field. The win, which moved the Vikings to 9-5 on the season and 6-2 in the Midwest Lacrosse Conference, put Coach Kyle Hart's team alone in third place in the league standings. Elmhurst falls to 2-8 overall and 1-6 in the conference.

Augustana's big three on offense, freshmen Kevin Gleason (Loyola Academy, Chicago, Ill.) and Scott Davis (St. Thomas Aquinas HS, Overland Park, Kan.) and sophomore Jesse Nagelberg (St. Charles East HS, St. Charles, Ill.), figured prominently as the Vikings jumped out to a 3-0 lead after one quarter. Nagelberg scored off a Gleason assist and Davis scored back-to-back goals assisted by Nagelberg and Gleason, respectively.
Nagelberg and sophomore Colin Haley (St. Charles East HS, St. Charles, Ill.) each had two goals and an assist in the second period and the Vikings went to the break with a 9-0 lead. Haley just beat the halftime horn his second goal.
Davis' unassisted goal, his 37th of the year, was the only scoring in the third period.
Gleason re-took the team lead in goals with his 38th to start the fourth. Freshman Andrew Miller (Waukesha North HS, Waukesha, Wis.) and sophomore Brad Anderson (Arrowhead HS, Hartland, Wis.) added goals to make it 13-0 before Elmhurst finally scored. John Fiedler got the Bluejays on the board with an unassisted goal at the 2:45 mark. Augustana's Kyle Doner (Peak to Peak HS, Erie, Colo.) finished off the scoring for the hosts before Tyler Dailey scored one final Bluejay goal with 32 seconds left.
Sophomore Cody Burgdorff (Peak to Peak HS, Lafayette, Colo.) went 49-plus minutes in goal and was unscored upon, recording eight saves.
Davis finished with four goals. Nagelberg had three goals and a pair of assists and Gleason found the net once and dished out three helpers. Sophomore Ryan Nakamoto (Naperville Central HS, Naperville, Ill.) had a team-high six ground balls and won nine of 14 faceoffs. Sophomore Andrew Jurewicz (St. Charles East HS, St. Charles, Ill.) led Augustana with four caused turnovers.
On Wednesday, April 24, the Vikings travel to Lisle, Illinois to face Benedictine. Opening faceoff is scheduled for 7:00 p.m.