April 20, 2013
Vikings 7th after two rounds at CCIW Championship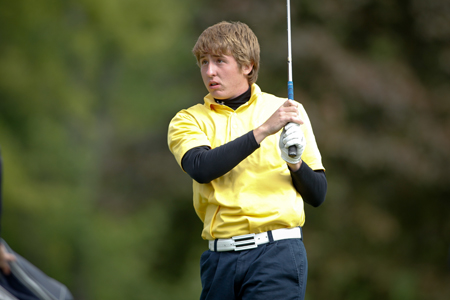 Sophomore Jake Groselak leads Augustana with a score of 159 after two rounds at the CCIW Championship.
BLOOMINGTON, Ill. - With sophomore Jake Groselak's (Lemont HS, Lemont, Ill.) total of 159 leading the way, Coach Paul Del Vecchio's Augustana men's golf team sits in seventh place after the first two rounds of play at the CCIW Championship. Rounds one and two of four were played Friday and Saturday, April 19-20 at The Den at Fox Creek. Millikin leads the team standings, one stroke ahead of Illinois Wesleyan.
Groselak (82-77 - 159) is tied for 25th. Sophomore Josh Kukla (Zion Benton HS, Winthrop Harbor, Ill.) (81-80 - 161) is currently in a tie for 30th and freshman David Ferlmann (Peoria Notre Dame HS, Dunlap, Ill.) (79-87 - 166) is in a 38th-place tie.
Rounding out the Viking contingent are junior Dave Cook (United Township HS, Silvis, Ill.) (85-82 - 167) and sophomores Grant Murphy (Dunlap HS, Peoria, Ill.) (84-85 - 169) and Max Channon (Wheaton Warrenville South HS, Wheaton, Ill.) (80-90 - 170). They are in 41st, 44th and 45th places, respectively.
Millikin's Wes Hillen (71-71 - 142) is the current leader, two strokes ahead of teammate Austin Havens (71-73 - 144). The pair has helped the Big Blue (290-298 - 588) to a one-stroke lead over Illinois Wesleyan (293-296 - 589).
The final two rounds will be held on Friday and Saturday, May 3-4 at Elgin Country Club in Elgin, Illinois.