April 20, 2013
Vikings fall to Wheaton, beat Dubuque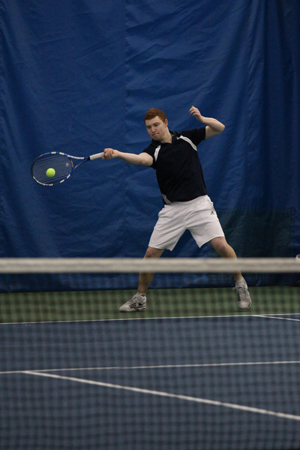 Junior Kevin Bayles won both of his singles matches and his lone doubles match Saturday as the Vikings fell 5-4 to Wheaton and beat Dubuque 9-0 at Augustana's lower courts.
ROCK ISLAND, Ill.-Augustana's men's tennis team suffered its first CCIW loss Saturday, dropping a 5-4 decision to Wheaton before bouncing back with a 9-0 whitewash of Dubuque later in the day. Coach Jon Miedema's Vikings are now 16-8 on the year and 2-1 against CCIW competition. Wheaton improved to 12-3 overall and 4-0 in the conference.

Wheaton 5, Augustana 4
Wheaton prevailed by getting three-set wins from its top three singles players and taking first and second doubles.
The Thunder's Ryan Kreis and Josh Ward bested Lawrence Palmer (Schiller International School, El Prat de Llobregat, Spain) and Andy Wall (Notre Dame Academy, DePere, Wis.) 8-4 at number one doubles and David Buursma and Miles Greenwald scored an 8-5 win over Colin Arnold (Sterling HS, Sterling, Ill.) and Jack Cullen (Edgewood HS, Madison, Wis.) at number two. Will Palmer (Schiller International School, Leicester, England) and Kevin Bayles (Homewood-Flossmoor HS, Flossmoor, Ill.) defeated Wheaton's Derek Mumaw and John Bodett 8-5 at number three.
In singles play, Wall defeated Greenwood 6-1, 7-6 at number four. Bayles beat Mumaw one and three at number five and Arnold won 6-3, 6-3 over Bodett at number six. Will Palmer dropped his match at third singles 1-6, 7-5, 2-6 to Buursman and Harald Olsson (Lidingo, Sweden) fell 6-2, 1-6, 1-6 to Ward at number two. At first singles, Kreis rallied to beat Lawrence Palmer 4-6, 6-2, 7-5.
Augustana 9, Dubuque 0
The Vikings dominated in its meet with Dubuque, winning all 12 singles sets and three doubles matches handily.
Olsson moved to first singles and defeated Nikolay Gospodinov 6-1, 6-2. Wall was a 6-3, 6-2 winner over Dishon Deering at number two and Bayles got his third win in as many matches Saturday with a 6-0, 6-0 win over Michael Braden at number three.
Freshman Austin Schoeck (Alleman HS, Rock Island, Ill.) was a 6-1, 6-3 fourth singles winner over Shawn Iben. Junior Grant Wick (Windsor HS, Fort Collins, Colo.) won three and one over Trevor Calahan at number five and freshman Patrick Lenz (Villanova Prep, Ojai, Calif.) beat Sean O'Meara love-love at number six.
Lawrence Palmer and Wall handled Deering and Calahan 8-1 at first doubles. Arnold and Cullen won 8-4 at number two over the Braden-Iben team and Wick and Olsson 8-2 at number three over Gospodinov and Andrew Drummond.
The Vikings host Elmhurst at Augustana's lower courts on Tuesday, April 23 at 4:00 p.m.