April 20, 2013
Augustana clinches MWLC title share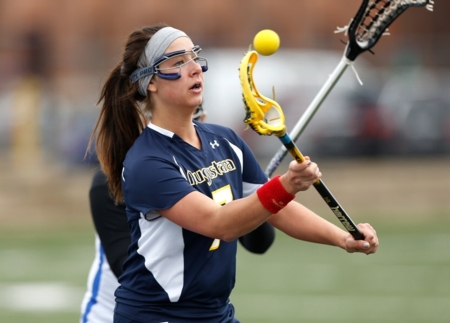 Sophomore Christian Letmanski scored five goals Saturday, as Augustana clinched at least a share of the Midwest Women's Lacrosse Conference championship with a 23-1 win at Aurora.
AURORA, Ill.-Sophomore Christina Letmanksi (Glenbard West HS, Wheaton, Ill.) led Augustana with five goals Saturday, as the Vikings clinched at least a share of the Midwest Women's Lacrosse Conference title with a 23-1 road win over Aurora. Coach Sara Tisdale's club is now 12-3 on the year and 7-0 in the MWLC. The Spartans fall to 5-10 overall and 3-5 in the league.

Behind Letmanksi, who also had two assists, the Vikings had tremendous balance, with eight individuals scoring two goals each. Sophomore Hilary Kargl (Sacred Heart Academy, Louisville, Ky.) dished out a team-high three assists to go with her pair of goals.
The Vikings led 12-0 at the half and 23-0 before Aurora's Kaitlyn Crohan got the Spartans on the board with 21 seconds left in the game.
Augustana's defense, led by the quartet of sophomores Emily Pavlik (Lyons Township HS, LaGrange, Ill.), Bridget Conniff (Benet Academy, Downers Grove, Ill.) and Anna Kyllo (St. Croix Lutheran HS, Bloomington, Minn.) and freshman Cori Duncan (York HS, Elmhurst, Ill.), allowed Aurora to get of just three shots in the contest. The Vikings attempted 45 shots and had advantages of 46-19 in ground balls and 21-5 in draw controls.
The Vikings can wrap up the outright MWLC championship with a win in their final league game at Benedictine on Tuesday, April 23 at 7:00 p.m. With wins in hand over second-place North Central and Carthage, both 5-1 in the league, Augustana will be hosting the conference tournament on May 3-4.