April 20, 2013
Vikings fall at league-leading Aurora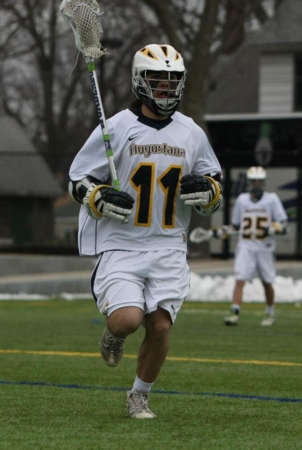 Sophomore Chris Hager's eighth goal of the season gave Augustana a 1-0 lead Saturday afternoon, but the Vikings fell 13-4 at MLC-leading Aurora.
AURORA, Ill.-Chris Hager's (Exeter Academy, Newfields, NH) goal four and a half minutes in gave Augustana a 1-0 lead Saturday, but host Aurora responded with eight straight goals and went on to a 13-4 win. The Vikings fall to 8-5 overall and 5-2 in the Midwest Lacrosse Conference, while the Spartans improve to 7-0 in the league and 10-3 pn the year.

After Hager's goal, his eighth of the year, Aurora's Jack Barry answered at the 6:34 mark of the first quarter to tie it. That started a string of eight straight Spartan goals. Sophomore Jesse Nagelberg (St. Charles East HS, St. Charles, Ill.) finally stopped Aurora's run with his 27th goal of the season at 4:59 of the third.
Sophomore Vincent Giglierano (Archbishop Mitty HS, San Jose, Calif.) and freshman Kevin Gleason (Loyola Academy, Chicago, Ill.) added fourth-quarter goals for the Vikings. Gleason's was his team-high 37th on the year.
Sophomore Cody Burgdorff (Peak to Peak HS, Lafayette, Colo.) recorded nine saves in goal for Augustana. Sophomore defender Jeremy Gottardo (Jacobs HS, Algonquin, Ill.) had a team-high four caused turnovers in the game.
Pat Diorka scored a game-high four goals for Aurora, which outshot the Vikings 34-28 and had a 40-22 edge in ground balls.
Augustana currently sits in a three-way tie for third place in the conference with Concordia and Mount St. Joseph. The top four teams qualify for the MLC tournament. Augustana hosts Elmhurst on Sunday, April 21, with opening faceoff scheduled for 4:00 p.m. at Thorson-Lucken Field.