April 18, 2013
Men's lacrosse with Elmhurst postponed until Sunday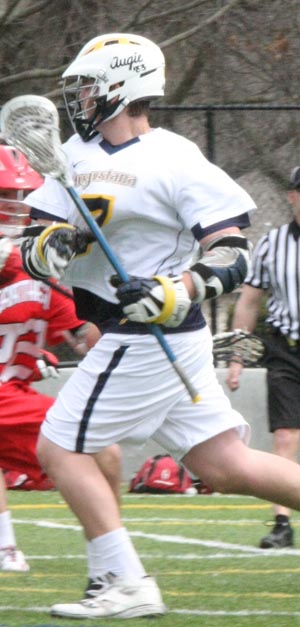 Sophomore Jesse Nagelberg and the Augustana Vikings will play Elmhurst on Sunday, April 21 at 4:00 p.m. instead of Thursday, April 18 because of extreme flooding in the Elmhurst area.
Tonight's (Thursday, April 18) men's lacrosse game between Augustana and Elmhurst has been postponed until Sunday, April 21 at 4:00 p.m. at Thorson-Lucken Field. Severe flooding in the town of Elmhurst forced an emergency situation and Elmhurst College cancelled classes for today.
Augustana, currently 8-4 overall and 5-1 in the Midwest Lacrosse Conference with a three game winning streak and victories in six of its last seven outings. Elmhurst is 2-7 and 1-5 in league play.
This game was originally scheduled for Wednesday, April 17 but was postponed because of thunderstorms in the Quad City area. The Vikings also had a game with Fontbonne rescheduled earlier this season and that was made up on Tuesday, April 16. Augustana won 15-4.