Alumnus shares affinity for history through immersion
April  19, 2013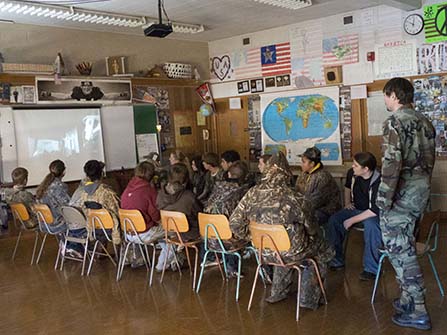 Creston Fenn '02 watches the the D-Day airplane jump in the HBO miniseries "Band of Brothers" with his American history class at Annawan High School. The students dressed the part of soldiers and sat in rows mimicking the inside of the aircraft.
ANNAWAN, Ill. — Creston Fenn wasn't at all sure what he wanted to do with his life when he enrolled at the University of Iowa in 1997.
Watch Creston Fenn in action
A year later, he still wasn't sure of his long-term goals as he left Iowa City. But he wanted something else out of college.
From his time at Pleasant Valley High School in Bettendorf, Iowa, Fenn had a friend who was attending Augustana College. He decided to take a look.
A distance runner as a teen, Fenn met with Augustana men's cross country and track coach Dr. Paul Olsen. From that point on, Fenn's wandering wasn't so aimless.
"I talked to Ols, and he hooked me," Fenn recalled.
Feeling an affinity for history, he settled on a major after becoming intrigued by the teaching methods of Drs. Thomas Brown and Lendol Calder. When Fenn graduated from Augustana in 2002, he had a degree and a foundation in teaching, but to him, that wasn't enough.
"I wanted a greater world perspective," Fenn said. "That's history. That's huge."
Widened perspective
He spent a little more than a month traveling through South America, which made him even hungrier to broaden his global outlook.
The next step was a three-year stint as an infantry soldier in the Army. Out of 220 soldiers in his company, Fenn said he knew only two others with college degrees.
"I went in with the sense that I was going into a different culture," he said. "I was taught to think outside the box at Augie, but in the Army I had to take orders without thinking about it."
After being discharged following two years stationed in Germany and another year in Iraq, Fenn substitute-taught at his high school alma mater for a few months. Soon after, in summer 2006, he interviewed for a history teaching position at Annawan High School, some 40 miles east of Augustana on Interstate 80.
With 878 residents, Annawan's population is almost 400 people fewer than Pleasant Valley High School and in a much more rural setting. But as with Fenn's travels abroad, it's a wholly different experience and one he's thoroughly enjoyed.
"There's more of a family-type atmosphere," he said. "The community seems a lot closer. That's who they know, this select group of people.
"When you talk about history, it's diverse. It's been a challenge and fun, too."
Different approach
Dr. Calder, who has been a member of the Augustana history faculty since 1996, has been at the forefront of a movement to shift history teaching away from the lecture-textbook-test model and toward more interesting, less-restrictive approaches.
That Augustana's history department plays an active role in training future history teachers is a bold departure from the conventional approach in higher education.
"I know that doesn't sound like a very radical idea, but it is," Dr. Calder said. "Traditionally, history departments have had zero role in training future history teachers. You graduate with a history degree and you know a lot about the Spanish-American War. That's supposed to make you a great employee somewhere?
"That's ridiculous."
Dr. Calder estimates the Augustana history department has 15 "characteristics of historical thinking that introduce students to the way of thinking that historians use to make sense of the world." Fenn merged that background with a passion for teaching brought out by Dr. Michael Schroeder, professor of education.
Fenn realized that he connected best with his professors when a lesson had an emotional element. As such, he favors lessons involving assimilation in his own classroom at Annawan High School.
"The great thing I loved about Augie was they let me do what I felt was my teaching style, what I felt was right," Fenn said. "Teaching style is the character of a person. My style is active, getting students involved.
"Whether it's humor, sadness, whatever, the students will connect and learn."