Working the Plan: Meet Ken Brill
Strategic Imperative 1: Prepare our students to stand out
The resounding final phrase of our college mission focuses on educating students for "rewarding lives of leadership and service in a diverse and changing world." As a residential liberal arts college, Augustana is in a good position to prepare leaders. Another reason is our Office of Student Activities (OSA), directed by Ken Brill '82.
One particularly strong program has been in place at Augustana for more than 20 years: EMERGE, the leadership program for first-year students. Experiential in nature and constantly energized by students' new ideas, Ken says, "It just works. Students love it."
Comprising about 120 students, or 20% of the first-year class, EMERGE is divided into 12 groups, with peer leaders connected to areas on campus such as the arts, sciences, athletics, underrepresented students, etc. The program is constantly evolving.
"We do a review every five or six years," Ken said, "and ask the critical questions." Through such reviews, the program has transformed from relying primarily on speakers to adding leadership consultants, an experiential component (such as the Four Mounds ropes course in Dubuque), service projects and group presentations of those projects to the rest of EMERGE.
As a follow-up to EMERGE, OSA used to offer EXPLORE. This was a series of opportunities such as keynotes and workshops, but, according to Ken, "They still missed something." So OSA adopted the leadership program of the National Association of Campus Activities (NACA)—the National Society of Leadership and Success—and more than 400 Augustana students immediately joined.
"Obviously, there was a hunger on campus to be involved in leadership," Ken said, "but was NACA's program a good fit for Augie? No."
Why not? He blames "the distance thing."
"They were webinars," he said. "It wasn't human. It was more splash than authentic, and we didn't feel it delivered a meaningful experience for our students." So the OSA students did some research, Ken consulted other schools, and they began to explore a program better suited to Augustana's culture and community.
Just underway, the newly named OSA Leadership Academy consists of four tiers: bronze (EMERGE), silver, gold and platinum. Each level has its own experiences and goals, building upon the previous. Led by Ken but created almost entirely by students, the Leadership Academy is customized to Augustana's particular brand of leadership development throughout four years on campus.
"We're excited," Ken admits. "It's going to be the next big thing."
Three Stanzas and Two Daily Sonnets
In honor of National Poetry Month, two poets on campus share their work. Erin M. Bertram teaches English and creative writing. She sent stanzas from her longer poem, "Taking Stock."
II.
At low tide, all things seem possible, though I know this is distortion. A haggard man, an auburn hen his only companion, the hen so still—sentinel? pilgrim?—to his vagabond. Beside him, a spiral staircase standing the sand's dampness, its weathered stone testament—wasn't it?—to resilience, the ability to withstand the wearing down. It was as if the sea, in its lap & furl, were saying to us, softly, forever, Close your eyes, look at me....
IV.
The lesson seems to be not only to admit defeat—to be able to—but to do right by it, as if the act of repairing the damage done—attempting to—were enough to make of sorrow, joy. Or, if not joy, then the memory of it, those frayed, lighted edges, a kind of dark lace, bending & open, like palm fronds taking on the dusk.
VII.
What if survival is largely determined by where you are on the map? But the act of mapping, itself, necessitates favor & omission: that which is acknowledged, that which is taken away. Regardless of its use—or, perhaps, because of it—a stone remains a stone remains a stone. What's the price of beauty, then, of drawing, from the hard dark, some scintillance? On the map of relief & longing, where is it, finally, I lay my body down?
Librarian Margaret Rogal writes a sonnet every day; here are two.
Sonnet 10.14.12
The Arsonists
I liked the pigeon-puppet best in The Arsonists,
its whimsy, its handmade-ness, its flying!
Landing on the skylight just like a real pigeon,
the arsonists shooing it off, like anyone would.
Otherwise, the play was about types, as you said,
the evil-doers masquerading as regular guys,
the innocent, the afraid, the gullible, the marketer,
the chorus, what about their yellow pants swishing?
Today, I occupied myself with artists—
those who write out of grief,
those who cut and glue paper flowers,
those who draw plants. Ellsworth Kelly said,
'All we did in the morning, was paint from the nude,
and in the afternoon we'd draw from the nude."
Sonnet 10.11.12
Poetry Reading
On my way home, I stopped to view Perle Fine,
the artist with the perfect name, a combination
of jewel and state of being, unclear
which word modifies which: is the pearl fine
or the fine refined to pure pearlness?
I prefer her abstract expressionist work,
"Unfurled" or "Summer Garden," in which
blue, green, and white pound and an envelope glued.
Tonight, writers and readers tiptoed into a grove
or jumped to the sound of cymbals.
In a frenzy, they donned crowns of ivy, repented,
and beat drums in worship to language.
A celebration of language! How well-knit.
We felt a sting, and readjusted our lives.
Field Notes

Adam Kaul (anthropology) sent a "postcard" from Ireland, where this term he is teaching and traveling with Augustana students and colleagues from English and biology.
Greetings from the Emerald Isle! Joe McDowell, Jason Koontz and I are only halfway through Ireland Term with 36 Augustana students, but we've already had an amazing time. We've walked the city streets of Dublin with James Joyce's Dubliners in hand, following in the footsteps of Joyce's characters. We've hiked the trails of Killarney National Park with their Director of Education, who led us through a cave and into one of Europe's only remaining stands of yew woods (a sacred tree of the pre-Christian Irish).
Earlier this week, we met up with three incredibly talented traditional Irish musicians in the town of Ennis for a private "session" and a Q&A about the music. Yvonne, Quentin and Eoin are old friends of mine, going back to when I lived in County Clare in the early 2000s, conducting ethnographic research. It was wonderful for me to watch our students interact with them.
They told us about how they got involved with the music, and explained some of the technical aspects of their playing. But mostly they emphasized the social aspects of the music and what it means to them to be part of this larger folk tradition. The students all crammed into a small room in Brogan's Pub for the event, but when the musicians found out that a couple of our students (Sarah Mattimiro and Andrea Ream) knew traditional Irish step dancing, we all managed to clear a space for them to get up and dance.
Moving on from the music of Ennis, we got a sea cruise on the Shannon estuary hosted by the Irish Dolphin and Whale Group, to watch dolphins dance on a sunny day off shore. Thankfully, the seas were calm and only a few students got seasick.
Now we are in Galway, home of the pirate queen Grainne. It's been a rewarding trip so far, as we are making the most of Ireland. More stories will follow—meanwhile, read our students' blogs from Ireland!
New Face on Campus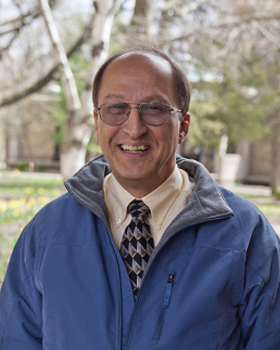 Will Bredfield, Manager, Augustana College Bookstore
B.S., business administration, Northern Illinois University
Will is a native Illinoisan whose 28-year career in the college bookstore business has included stops at Northern Illinois University and the University of Illinois, where he spent the majority of his career. Will and his wife Sue are in the process of moving from Indiana, where he last worked at the Art Institute of Indianapolis. While neither Will nor Sue has Quad-City roots, they do have a son, daughter-in-law and grandchild living in Iowa City. Their other son lives in Denver.
Will has two rather unique personal interests. The first is smooth jazz, and he welcomes suggestions from fellow aficionados as to where he might find local venues that feature jazz artists. His second is creating stained-glass art. Beginning with small electronic kits as a boy, Will has enjoyed building things all his life. A few years ago, Sue bought him a gift certificate for several stained-glass art pieces, and he's been hooked ever since.
Please stop by the Augustana College Bookstore and meet Will on your next trek through the College Center.
From the Cabinet
Kent Barnds, Executive Vice President
As a member of the Augustana community, you recently were invited to participate in a "serious conversation" about our college's competitive position. I suspect this invitation and the reading that accompanied it shook some of you; I know that considering the available information has been a bit unsettling for me, too. (And I suspect each member of the task force* would say the same things.)
Let's be honest: some of the trends and truths identified are a bit scary. But, these trends and truths should not, cannot and will not paralyze an institution as strong and as creative as Augustana College. How do I know? I'm listening—that's how I know.
The conversations in reaction to the preliminary work presented by this task force reveal a level of interest and focus that should reassure every member of our community that our future is bright. Listening to faculty, administrators, staff and members of the college's board as they react and converse has been uplifting. It's been refreshing to see consensus and seriousness about the information presented, and an emerging awareness of our need to improve our capacity in some areas to strengthen the college's position in a more complex, post-recession environment.
What's been most interesting is that members of the task force who have participated primarily as listeners in these conversations frequently have been in the position of trying to direct the great ideas and positive energy toward other task forces—since our objective is to establish a sense of the environment rather than design responses.
As one participant said, "I buy into everything you've presented. Now, what are we going to do about it?" It's exactly this sentiment that gives me great hope and gets me excited about the planning process and Augustana's future.
As this task force finalizes its work, it will begin to focus on areas where we can build or strengthen our capacity. The conversations that we've had throughout the past several weeks will provide the direction we need.
* Members include: Dr. David Snowball (communication studies), Dr. Pam Trotter (chemistry), Dr. Rob Elfline (music), Dr. Mark Salisbury (institutional research and assessment), Scott Cason (communication and marketing), Leslie DuPree (web services), David English (CFO), Chris Vaughan (ITS), Mike Zapolski (athletics), Meghan Cooley (admissions) and me.


Seen & Heard
"How do you make a distinction between income and wealth?"
—Astrid Tello-Rodriguez '13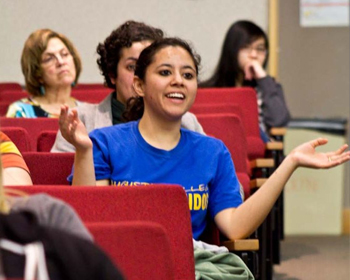 During an informal talk on social justice, Symposium Day keynote speaker Dr. Avis Jones DeWeever took questions from an audience in Olin Auditorium on April 9.


Acknowledge is published by the Office of Communication and Marketing at Augustana College, Rock Island, Illinois. Contact Beth Roberts, editor. Photos in the issue were contributed by Dr. Jason Koontz and Kyle Soyer '14, as well as Drew Barnes '14 and Kristin Walden '16 of the Augustana Photo Bureau.