April 17, 2013
Weber to play professionally in Switzerland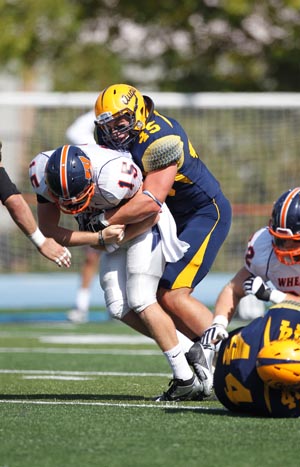 Joe Weber, who wrapped up his Augustana career last fall, is going to play professionally in Switzerland this summer.
Linebacker Joe Weber (Marmion Academy, Chicago, Ill.) who wrapped up his Augustana football career last fall, is pursuing a professional career in Switzerland. Weber is playing this spring for the Calanda Broncos, members of Europe's first division and defending Eurobowl champions.

The 6' 2", 240-pound Weber was a three-year starter for Coach Rob Cushman's Vikings, earning second team All-CCIW honors in 2011. He finished his career at Augustana with 147 tackles (75 solo and 72 assists), 28½ tackles for loss and 18 sacks. He forced four fumbles, recovered three and blocked a pair of kicks as well.
In 2010, Weber was the Vikings' third-leading tackler with 56 and led the team in tackles for loss (16) and sacks (10). He was Augustana's second-leading tackler with 48 in 2011. He again topped the squad with five sacks and tackles for loss. He also recovered three fumbles and forced another. He was slowed a bit by injuries as a senior, but still recorded 43 tackles (fifth on the team), 7½ tackles for loss (third) and three sacks (fourth). He led the team with two forced fumbles.
The Broncos are headquartered in Chur in the Swiss canton of Graubünden. They defeated the Raiffeisen Vikings of Vienna, Austria 27-14 last July for the 2012 Eurobowl championship. Calanda is off to a 3-0 start this season and has outscored the opposition by a margin of 165-7.